Asbestos Exposure Sites in Texas

Our records contain 2604 asbestos lawsuit exposure sites in Texas, though there are certainly more that have not been reported.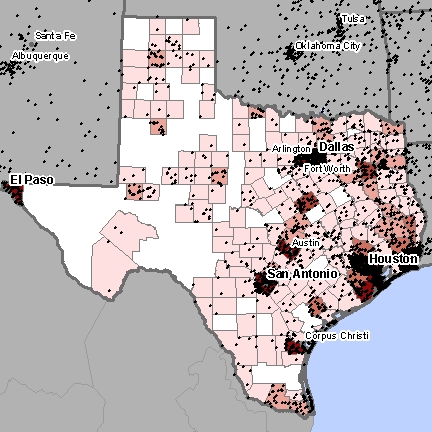 Asbestos in Texas
For decades, Texas buildings and products have used asbestos. Because of this, many Texas residents have been exposed to asbestos and are at risk for contracting mesothelioma cancer.
The symptoms of mesothelioma often take decades to appear, so Texas workers are at risk even if they were exposed to asbestos decades ago. Examples of Texas asbestos exposure sites include:
Texas factories
Powerplants in Texas
Refineries or Chemical Plants in Texas
Below is a list of 2604 known sites of asbestos exposure in Texas. Asbestos exposure is known to have occurred in at least 368 Texas cities, though the number is likely even higher.
The Texas city with the most asbestos exposure sites was Houston, TX, with 429 known sites contaminated by asbestos.
| Site Name | City |
| --- | --- |
| 3rd Surface To Air Missile (Sam) Support Detachment | Abilene |
| Abilene State School | Abilene |
| Atlas Missile Site | Abilene |
| City Of Abilene Power Plant | Abilene |
| County Power Plant | Abilene |
| Crown Cork & Seal Plant | Abilene |
| Eilene's Clothing Plant | Abilene |
| Hendricks Hospital | Abilene |
| Pride Refinery | Abilene |
| West Texas Utility Power Plant | Abilene |
| Alvin High School | Alvin |
| Alvin Independent School District | Alvin |
| British Petroleum (BP) "Chocolate Bayou" Ethylene Plant | Alvin |
| Dupont Chemical Plant | Alvin |
| Monsanto Chemical Plant | Alvin |
| Phillips Gas Plant | Alvin |
| Amarillo Country Club | Amarillo |
| Amarillo Junior College | Amarillo |
| Amarillo Power Plant | Amarillo |
| Amarillo Refinery | Amarillo |
| Asarco Copper & Metals Refinery | Amarillo |
| Fannin Junior High School | Amarillo |
| Fannin School | Amarillo |
| Feed Mill | Amarillo |
| Glover Meat Packing Plant | Amarillo |
| High Plains Baptist Hospital | Amarillo |
| Levi Strauss | Amarillo |
| Nichols Power Plant | Amarillo |
| Northwest Texas Hospital | Amarillo |
| Owens-Corning Plant | Amarillo |
| Pioneer Gas Building | Amarillo |
| Sears Roebuck | Amarillo |
| Southwestern Portland Cement Plant | Amarillo |
| Southwestern Public Service (S.P.S) "Harrington" Steam Plant | Amarillo |
| Southwestern Public Service (S.P.S.) "Love" Steam Plant | Amarillo |
| Southwestern Public Service Building | Amarillo |
| Amoco | Andrews |
| Midland Farms Gasoline Plant | Andrews |
| American Oil Company (Amoco) | Angleton |
| Angleton High School | Angleton |
| Ashland Chemical Plant | Aransas |
| Humble-Exxon Tank Farm | Aransas Pass |
| Arlington Memorial Hospital | Arlington |
| Frito Lay Plant | Arlington |
| General Dynamics | Arlington |
| General Motors Plant | Arlington |
| Gmc Paint Plant | Arlington |
| Six Flags Over Texas | Arlington |
| Texas Electric Power Plant | Arlington |
| Village Creek Sewer Plant | Arlington |
| 3M | Austin |
| Abbott Laboratory | Austin |
| Advance Microdevices | Austin |
| American Founders Life Insurance | Austin |
| American Stateman Building | Austin |
| American Statesman Newspaper | Austin |
| Anderson High School | Austin |
| Austin Diagnostic Clinic | Austin |
| Austin Independent School District | Austin |
| Austin State Hospital | Austin |
| Austin State School | Austin |
| Baker School | Austin |
| Becker School | Austin |
| Bergstrom Air Force Base | Austin |
| Bergstrom Air Force Base Barricks | Austin |
| Bergstrom Air Force Base Hospital | Austin |
| Brackenridge Hospital Addition | Austin |
| Breckenridge Hospital | Austin |
| Brentwood School | Austin |
| Brooks Elementary School | Austin |
| City Of Austin | Austin |
| City Of Austin Auditorium | Austin |
| City Of Austin Power Plant 1 | Austin |
| City Of Austin Welfare Office | Austin |
| City Sewer Plant | Austin |
| City Water Filter Plant | Austin |
| Decker Creek Power Plant | Austin |
| Decker Powerhouse | Austin |
| Del Valle Elementary School | Austin |
| Department Of Public Safety Headquarters | Austin |
| Dobie Mall | Austin |
| Driskill Hotel | Austin |
| Driskill Hotel Construction | Austin |
| Furniture Factory | Austin |
| Holly Street Power Plant | Austin |
| Holly Street Powerhouse | Austin |
| Houston-Tilletson College | Austin |
| Huston-Tillotson College | Austin |
| Hyde Park Baptist Church | Austin |
| IBM | Austin |
| Jefferson Chemical Plant | Austin |
| Lamar Junior High School | Austin |
| Lockheed | Austin |
| Lucy Reed Elementary School | Austin |
| Motorola Plant | Austin |
| Mutual Savings | Austin |
| North Cross Mall | Austin |
| O'Henry Junior High School | Austin |
| Pearce Junior High School | Austin |
| Porter Junior High School | Austin |
| Ridgetop School | Austin |
| Rosewood School | Austin |
| Safeway Store | Austin |
| Sanchez Elementary School | Austin |
| Scottish Rite Dormitory | Austin |
| Seaholm Power Plant | Austin |
| Sears, Roebuck | Austin |
| Seton Hospital | Austin |
| Sims School | Austin |
| St. David's Hospital | Austin |
| St. Edwards University | Austin |
| St. Stephen's School | Austin |
| State Farm Office Building | Austin |
| State Finance Building | Austin |
| State Hospital | Austin |
| State Hospital For The Mentally ILL | Austin |
| State Mental Hospital | Austin |
| Steck Printing Plant | Austin |
| Superior Dairies | Austin |
| Teachers Retirement Building | Austin |
| Texas Department Of Public Safety | Austin |
| Texas Highway Department | Austin |
| Texas Parks & Wildlife Building | Austin |
| Texas State Health Department | Austin |
| Texas State Hospital | Austin |
| Texas State School For The Blind | Austin |
| Texas State School For The Mentally Retarded | Austin |
| Travis Heights Elementary School | Austin |
| Travis High School | Austin |
| Travis State School | Austin |
| University Of Texas | Austin |
| University Of Texas - Alpha Chi Dormitory | Austin |
| University Of Texas - Communcations Building | Austin |
| University Of Texas - Engineering Building | Austin |
| University Of Texas - Ex-Student Association Building | Austin |
| University Of Texas - Geology Building | Austin |
| University Of Texas - Housing | Austin |
| University Of Texas - Humanities Building | Austin |
| University Of Texas - Library | Austin |
| University Of Texas - Men's Dormitories | Austin |
| University Of Texas - Physics Library | Austin |
| University Of Texas - Students Co-Op Building | Austin |
| University Of Texas - Women's Dormitories | Austin |
| University Of Texas (Science Building; Littlefield Building) | Austin |
| University Of Texas Chemistry Building | Austin |
| University Of Texas Dormitory | Austin |
| University Of Texas Hall Dormitory | Austin |
| University Of Texas School Of Law | Austin |
| YMCA | Austin |
| Avinger Powerhouse | Avinger |
| Southwest Electric Power Plant - Texas Electrical Power Plant | Avinger |
| Wilkes Power Plant | Avinger |
| Eagle Mountain Lake Power Plant | Azle |
| Lower Colorado River Authority (LCRA) "Sam Gideon" Steam Plant | Bastrop |
| Sim Gideon Power Plant | Bastrop |
| Formosa Plastics Plant | Baton Rouge |
| Celanese Chemical Plant | Bay City |
| Coastal States Gas Plant | Bay City |
| Exxon Oil Refinery | Bay City |
| South Texas Nuclear Power Plant | Bay City |
| Baycliff Steam Plant | Baycliff |
| American Hurst Corporation | Bayport |
| Big Three Industries aka Airliquide Gas Plant | Bayport |
| Celanese Chemical Plant | Bayport |
| Cosden-Fina Oil Refinery | Bayport |
| FMC Chemical Plant | Bayport |
| LCI Chemical Plant | Bayport |
| Air Products aka Mobay/Bayer Chemical Plant | Baytown |
| American Oil Company Chemical Plant (Amoco) | Baytown |
| ARCO Oil Refinery | Baytown |
| Ashland Oil & Chemical Plant | Baytown |
| Babcock Borsig Power Inc. | Baytown |
| Cedar Bayou Steam Plant | Baytown |
| Chemical Exchange Plant | Baytown |
| Chevron Oil Refinery | Baytown |
| Chevron Phillips "Cedar Bayou" Ethylene Products Plant | Baytown |
| Dow Chemical Plant | Baytown |
| Exxon Chemical Plant | Baytown |
| Exxon Co. Office Building | Baytown |
| Exxon Docks | Baytown |
| Exxon Service Station | Baytown |
| Exxon Tank Farm | Baytown |
| Exxonmobil Refinery | Baytown |
| Exxonmobil Research & Development Operations | Baytown |
| Gulf Refinery | Baytown |
| H.B. Huber Carbon Black Plant | Baytown |
| Houston Lighting & Power (HL&P) "Cedar Bayou" Power Plant | Baytown |
| Houston Power & Light Power Plant | Baytown |
| J.E. Hubert-Aber-Carbon Black Plant | Baytown |
| Lubrizol Chemical Plant | Baytown |
| Mobil Oil | Baytown |
| San Jacinto Hospital | Baytown |
| Sears Roebuck | Baytown |
| Stauffer Chemical Plant | Baytown |
| Sterling High School | Baytown |
| U.S. Rubber Plant | Baytown |
| U.S. Steel Mill | Baytown |
| U.S. Texas Work | Baytown |
| United Rubber | Baytown |
| Warren Gas Plant | Baytown |
| Baptist Hospital | Beaumont |
| Baptist Hospital Southeast | Beaumont |
| Beaumont Iron & Metal Scrap Yard | Beaumont |
| Beaumont Iron Works | Beaumont |
| Bethlehem Steel Shipyard | Beaumont |
| Betz Chemical Plant | Beaumont |
| Borden Milk Products Plant | Beaumont |
| Continental Can | Beaumont |
| Diamond Shamrock-Occidental Alkalai Chemical Plant | Beaumont |
| Dupont Chemical Plant | Beaumont |
| Edson Hotel | Beaumont |
| Fina Chemical Plant | Beaumont |
| First Christian Church | Beaumont |
| Goodyear Tire & Rubber Synthetic Rubber Plant | Beaumont |
| Gulf States Utilities | Beaumont |
| Houston Chemical | Beaumont |
| Lamar University | Beaumont |
| Magnolia-Socony-Mobil-British Petroleum (BP) Oil Refinery And Chemical Plant | Beaumont |
| Mobil aka Exxon Mobil Refinery | Beaumont |
| Mobil Paint Coatings Plant | Beaumont |
| Mobile / Exxon Mobile Chemical Plant | Beaumont |
| Mobile Oil Tank Farm | Beaumont |
| Olin Matheson Chemical Plant | Beaumont |
| Pennsylvania Shipyards | Beaumont |
| Petro Chemical Plant | Beaumont |
| San Jacinto Building | Beaumont |
| Sears Roebuck Automotive Center | Beaumont |
| St. Elizabeth Hospital | Beaumont |
| Texaco Oil Refinery | Beaumont |
| Texas Gulf Sulphur Plant | Beaumont |
| Texas Metal Works | Beaumont |
| U.S Steel Mill | Beaumont |
| Zummo Slaughterhouse | Beaumont |
| Chase Field Naval Base | Beeville |
| Texaco Lab | Bellaire |
| Belton Power Plant | Belton |
| Cities Service Oil And Gas Plant (Westworld Plant) | Big Lake |
| Northern Natural Gas Plant | Big Lake |
| Big Spring Refinery | Big Spring |
| Fina Oil Refinery A/K/A Cosden Refinery | Big Spring |
| Malone Hogan Clinic & Hospital | Big Spring |
| Veterans' Administration Hospital | Big Spring |
| Fina Chemical Plant | Big Springs |
| Celanese Chemical Plant | Bishop |
| Celanese Chemical Plant Office Buildings | Bishop |
| Champlin Oil Refinery | Bishop |
| Oak Creek Lake Powerhouse | Blackwell |
| West Texas Utilities Power Plant | Blackwell |
| General Wire & Cable Plant | Bonham |
| Booker Meat Packing Plant | Booker |
| Amarillo College | Borger |
| B.C. Fertilizer Plant | Borger |
| Chevron Phillips Chemical Plant | Borger |
| Cominco-Agrium Fertilizer-Chemical Plant | Borger |
| Phillips 66 Chemical Plant | Borger |
| Phillips 66 Oil Refinery | Borger |
| Phillips Aviation Gas Plant | Borger |
| Phillips Booster Plant | Borger |
| Phillips Butadiene Plant | Borger |
| Phillips Copolymer Plant aka Phillips Rubber Plant | Borger |
| Phillips Gas "Rock Creek" Plant | Borger |
| Phillips Oil Refinery | Borger |
| Phillips Petroleum - Alamo Refinery Research Plant | Borger |
| Phillips Petroleum - Rice Plant | Borger |
| Phillips Petroleum Helium Plant | Borger |
| Phillips Petroleum Plant | Borger |
| Phillips Pipe Yard | Borger |
| Phillips Research Plant | Borger |
| Riverview Powerhouse | Borger |
| Sid Richards Carbon Black Plant | Borger |
| Brady Powerhouse | Brady |
| Jefferson Lake Sulphur Company | Brazoria |
| Shell Gas Plant | Brians Mill |
| Shell Oil Refinery | Brians Mill |
| Gulf States Utilities | Bridge City |
| Sabine Power Plant | Bridge City |
| Brookshire High School | Brookshire |
| Brownsville Power & Light | Brownsville |
| Carthage Hydrocol Plant | Brownsville |
| City Of Brownsville | Brownsville |
| Norton Company | Brownsville |
| Port Of Brownsville | Brownsville |
| Union Carbide Plant | Brownsville |
| 3M Plant | Brownwood |
| Brownwood Hospital | Brownwood |
| Atrofina Chemicals | Bryan |
| Bryan High School | Bryan |
| Bryan Power Plant | Bryan |
| Shell Oil Refinery | Bryans Mill |
| Sheppard Memorial Hospital | Burnet |
| Phillips Chemical Plant | Cactus |
| Champion International - International Paper | Camden |
| W.T. Carter & Brothers Lumber Co. | Camden |
| West Texas State University | Canyon |
| Crown Central Petroleum Refinery | Carlos |
| City Of Carrollton | Carrollton |
| International Paper Mill | Carrollton |
| Champlin-Citgo Gas And Oil Refinery | Carthage |
| United Gas | Carthage |
| Southwestern Electric Power Plant (SWEPCO) - Welsh Power Plant | Cason |
| Gulf Refinery | Cedar Bayou |
| American Oil Co. (Amoco) Oil Refinery | Channelview |
| Armco Steel Mill | Channelview |
| Channelview Power Plant | Channelview |
| Delta Engineering Yard | Channelview |
| Dow Chemical Plant | Channelview |
| Lyondell "Channelview Complex" Chemical Intermediates Plant | Channelview |
| San Jacinto Ordinance Depot | Channelview |
| Sinclair Petrochemicals | Channelview |
| Southern Petrochemicals Plant | Channelview |
| T.E. Mercer Trucking | Channelview |
| Texas Butane & Chemical | Channelview |
| Thermal Equipment Fabricating Co. | Channelview |
| Thermal Equipment Shop | Channelview |
| Amoco Chemical Plant | Chocolate Bayou |
| Amoco Refinery | Chocolate Bayou |
| Exxon Oil Refinery | Chocolate Bayou |
| Monsanto aka Solutia Chemical Plant | Chocolate Bayou |
| Phillips 66 Oil Refinery | Chocolate Bayou |
| San Miguel Power Plant | Christine |
| Clear Creek Independent School District | Clear Creek |
| NASA - Johnson Space Center, Space Center Houston | Clear Lake |
| National Aeronautics And Space Administration (NASA) Complex - International Business Machines (IBM) Plant | Clear Lake |
| University Of Houston | Clear Lake |
| Walls Hospital | Cleburne |
| Texas A&M Power Station | College Station |
| Col Tex Refinery | Colorado City |
| Exxon/Humble Gas Plant & Tank Farm | Colorado City |
| Morgan Creek Powerhouse | Colorado City |
| Texas Electric Power Plant | Colorado City |
| Texas A & M University At Commerce | Commerce |
| Air Products Plant | Conroe |
| Columbian Carbon Plant | Conroe |
| Humble aka Exxon Gas Plant | Conroe |
| Jefferson-Texaco Chemical Plant | Conroe |
| Superior Oil Co. Oil Rigs | Conroe |
| City Of Garland | Copeville |
| North Lake Power Plant | Coppell |
| Amerada Hess Oil Refinery | Corpus Christi |
| American Bank Building | Corpus Christi |
| American Chrome Metals Plant | Corpus Christi |
| American Smeltry | Corpus Christi |
| Asarco Zinc Refinery - Ecycle Texas Hydrometallurgical Processing Plant | Corpus Christi |
| Barney Davis Power Plant | Corpus Christi |
| Berry Contracting Office Building | Corpus Christi |
| Berry Contracting Shop | Corpus Christi |
| Berry Fabrication Shop | Corpus Christi |
| Borden Company | Corpus Christi |
| Celanese Clarkwood Technical Center | Corpus Christi |
| Celanese Corp. Building | Corpus Christi |
| Celanese Plant | Corpus Christi |
| Central Power & Light (CP&L) "Nueces Bay" Power Plant | Corpus Christi |
| Central Power & Light (CP&L) "Padre Island" Power Plant | Corpus Christi |
| Central Power & Light (CP&L) Building | Corpus Christi |
| Central Power & Light (CP&L) Power Plant | Corpus Christi |
| Champion Oil Refinery | Corpus Christi |
| Champlain Refinery | Corpus Christi |
| Champlin Docks | Corpus Christi |
| Champlin Gasoline Storage Facility | Corpus Christi |
| Champlin Petroleum Company | Corpus Christi |
| Chapman Refinery | Corpus Christi |
| Citgo Oil Refinery | Corpus Christi |
| Coastal Iron Works Fabrication Shop | Corpus Christi |
| Coastal Iron Works Shipyard | Corpus Christi |
| Coastal Javelina Gas Processing Plant | Corpus Christi |
| Columbia Southern Chemical Plant | Corpus Christi |
| Corn Products Refining Plant | Corpus Christi |
| Corpus Christi Army Depot | Corpus Christi |
| Corpus Christi Gas Plant | Corpus Christi |
| Corpus Christi Petrochemical Plant | Corpus Christi |
| Corpus Christi Pipeline | Corpus Christi |
| Corpus Christi Power & Light Plant | Corpus Christi |
| Corpus Christi Refining Company | Corpus Christi |
| Diamond Shamrock | Corpus Christi |
| Doctors Hospital | Corpus Christi |
| Driscoll Children S Hospital | Corpus Christi |
| Exxon Oil Refinery | Corpus Christi |
| First Commerce Bank | Corpus Christi |
| Flint Hill Resources | Corpus Christi |
| Flint Hills Refining West - Koch - Suntide Oil Refinery | Corpus Christi |
| Flour Bluff Gas Plant (Humble) | Corpus Christi |
| Flower Bluff Naval Air Station | Corpus Christi |
| Gilman Fabrication Shop | Corpus Christi |
| Great Southern Refinery | Corpus Christi |
| Gulf Compress | Corpus Christi |
| Holiday Inn | Corpus Christi |
| Holiday Inn - Shoreline | Corpus Christi |
| Javelina Refinery | Corpus Christi |
| Koch Oil | Corpus Christi |
| Koch Refinery | Corpus Christi |
| Lyondell Steam Cracking Plant - Corpus Christi Petrochemical | Corpus Christi |
| Memorial Medical Center | Corpus Christi |
| Naval Air Station (NAS) | Corpus Christi |
| Navigation Power Plant | Corpus Christi |
| Padre Staples Mall | Corpus Christi |
| Pittsburgh Plant & Iron (PPI) | Corpus Christi |
| Pittsburgh Plate Glass (PPG) Chemical Plant | Corpus Christi |
| Pontiac/Suntide Refinery | Corpus Christi |
| Port Of Corpus Christi | Corpus Christi |
| Reynolds Aluminum Plant | Corpus Christi |
| Saber Refinery | Corpus Christi |
| Southern Alkali | Corpus Christi |
| Southern Minerals Refinery | Corpus Christi |
| Southwestern Oil Refinery | Corpus Christi |
| Spohn Hospital | Corpus Christi |
| Sun Oil (Sunoco) Refinery | Corpus Christi |
| Tex-Mex Railroad | Corpus Christi |
| Turning Basin Powerhouse | Corpus Christi |
| U.S. Naval Base | Corpus Christi |
| Valero East Oil Refinery | Corpus Christi |
| Valero Oil Refinery | Corpus Christi |
| Champion Particle Board Plant | Corrigan |
| Georgia Pacific | Corrigan |
| Corsicana State Home Orphanage | Corsicana |
| Navarro Regional Hospital | Corsicana |
| Gulf-Warren Petroleum Plant | Crane |
| Phillips 66 Refinery | Crane |
| Phillips Gas Plant | Crane |
| Georgia Pacific | Crosby |
| Del Monte Food Cannery | Crystal City |
| Lone Star Steel Company | Daingerfield |
| Tiger/Atlas Roofing Co. | Daingerfield |
| 1st National Bank Building | Dallas |
| A.F. Holman Boiler Company | Dallas |
| Apparel Market | Dallas |
| Apparel Mart | Dallas |
| Armstrong Cork Company | Dallas |
| Atlantic Refinery Building | Dallas |
| Babcock & Wilcox Building | Dallas |
| Bayles Elementary School | Dallas |
| Bayles High School | Dallas |
| Baylor Dental Clinic | Dallas |
| Baylor Hospital Power Plant | Dallas |
| Baylor School Of Dentistry | Dallas |
| Baylor University Hospital | Dallas |
| Bishop College | Dallas |
| Chance Vought Plant | Dallas |
| Charlton Methodist Hospital | Dallas |
| Coca-Cola Bottling Plant | Dallas |
| Coca-Cola Building | Dallas |
| Collins Radio | Dallas |
| Comacho Cardboard Box Plant | Dallas |
| Dallas Area Rapid Transit (Dart) Building | Dallas |
| Dallas Athletic Building | Dallas |
| Dallas Baptist University | Dallas |
| Dallas Convention Center | Dallas |
| Dallas Linen Service | Dallas |
| Dallas Medical & Surgical Building | Dallas |
| Dallas National Bank | Dallas |
| Dallas Osteopathic Hospital | Dallas |
| Dallas Power & Light Warehouse Building | Dallas |
| Dallas Times Herald Building | Dallas |
| Dallas Transit System | Dallas |
| Dallas/Fort Worth International Airport | Dallas |
| Delta Steel Welding & Fabrication Shop | Dallas |
| DFW Airport Fire Station (s) | Dallas |
| DFW Airport Security Buildings | Dallas |
| DFW Dobbs House | Dallas |
| DFW International Airport - American Airlines Maintenance Hangar | Dallas |
| DFW International Airport - Control Tower | Dallas |
| DFW International Airport - Delta Airlines | Dallas |
| DFW International Airport - Power Plants | Dallas |
| DFW International Airport - Sky Chef | Dallas |
| DFW International Airport - Terminals | Dallas |
| DFW International Airport - Tunnels | Dallas |
| Diamond Alkalai Chemical Plant | Dallas |
| Diamond Shamrock Building | Dallas |
| Disd Administration Building | Dallas |
| Doctor's Hospital | Dallas |
| Eastman Kodak Chemical Plant | Dallas |
| El Centro College | Dallas |
| Exchange Park Office Building | Dallas |
| Exchange Park Power Plant | Dallas |
| Exchange Park Shopping Center | Dallas |
| Fair Park Music Hall | Dallas |
| Fairmont Hotel | Dallas |
| Federal Reserve Bank | Dallas |
| First International Bank | Dallas |
| First International Bank Building | Dallas |
| First National Bank | Dallas |
| Frito-Lay Plant | Dallas |
| General Dynamics | Dallas |
| General Motors Distribution Plant | Dallas |
| Inland Container | Dallas |
| J. W. Starks School | Dallas |
| JC Penney Regional Office | Dallas |
| Jcpenney - Big Town Mall | Dallas |
| Jesuit High School | Dallas |
| Jones Blair Paint | Dallas |
| Lew Sterrett Jail | Dallas |
| Lone Star Gas Plant | Dallas |
| Lone Star Gas Substation | Dallas |
| Love Field Air Force Base | Dallas |
| Love Field Airport | Dallas |
| Love Field Naval Base | Dallas |
| Love Field Powerhouse | Dallas |
| Love Field Terminal | Dallas |
| LTV Building | Dallas |
| LTV Building (Fidelity Union Life) | Dallas |
| LTV Plant | Dallas |
| LTV Research Building | Dallas |
| Majestic Theater | Dallas |
| Marriott Hotel | Dallas |
| Mary Kay Cosmetics Plant | Dallas |
| Medical City Hospital | Dallas |
| Mercantile Bank Building | Dallas |
| Mercantile National Bank | Dallas |
| Methodist Hospital | Dallas |
| Miller Brewery | Dallas |
| Morton Food Plant | Dallas |
| Mountainview Community College | Dallas |
| Mt. Creek Power Plant | Dallas |
| Neiman Marcus | Dallas |
| Neuhauf Packing Plant | Dallas |
| Neuhoff Meat Packing Plant | Dallas |
| North American Aviation | Dallas |
| North Lake Steam Electric Station | Dallas |
| OI Corrugated Box Plant | Dallas |
| One Energy Square | Dallas |
| Park Dale Power Plant | Dallas |
| Parkdale Powerhouse | Dallas |
| Parkland Hospital Power Plant | Dallas |
| Preston State Bank | Dallas |
| Proctor & Gamble Plant | Dallas |
| Quadrangle Center | Dallas |
| Quaker Oats Plant | Dallas |
| Republic National Bank | Dallas |
| RHD Hospital aka Dedman Hospital | Dallas |
| Richland College | Dallas |
| Rock-Tenn Paper Plant | Dallas |
| Salvation Army | Dallas |
| Schepp's Dairy | Dallas |
| Sears, Roebuck | Dallas |
| Sears, Roebuck Building | Dallas |
| Sears, Roebuck Warehouse | Dallas |
| Shamrock Oil & Gas Company | Dallas |
| Sheraton Hotel | Dallas |
| Skyline High School | Dallas |
| Southern Methodist University - Bob Hope Theater | Dallas |
| Southern Methodist University - Church | Dallas |
| Southern Methodist University - Dormitories | Dallas |
| Southern Methodist University - Library | Dallas |
| Southern Methodist University (SMU) | Dallas |
| Southern Methodist University Engineering Building | Dallas |
| Southwestern Bell - Lake Highlands | Dallas |
| Southwestern Bell - Main Building | Dallas |
| Southwestern Bell Telephone Building | Dallas |
| Southwestern Life Insurance Building | Dallas |
| Southwestern Medical Center | Dallas |
| Southwestern Medical School | Dallas |
| Southwestern Telephone Building | Dallas |
| St. Marks School | Dallas |
| St. Paul Hospital | Dallas |
| Standard Brands Food Plant | Dallas |
| Sweetheart Corporation | Dallas |
| Tarleton State College | Dallas |
| Texas Industries | Dallas |
| Texas Power & Light | Dallas |
| Tom Thumb Cold Storage Facility (fka Safeway) | Dallas |
| Uniform Plant | Dallas |
| Veterans' Administration Hospital | Dallas |
| Wyatt Industries | Dallas |
| Wyatt Metal & Boiler Works | Dallas |
| Wyatt's Cafeteria | Dallas |
| YMCA | Dallas |
| Zales Building | Dallas |
| Zoecon Dog Collar Plant | Dallas |
| Industrial Linen Service | Dallas/Fort Worth |
| Industrial Uniform Towel | Dallas/Fort Worth |
| Parker Fallis Insulation | Dallas/Fort Worth |
| Humble Oil Refinery | Danciger |
| Lonestar Steel | Dangerfield |
| Welch Power Plant | Dangerfield |
| Busby Office Building | Dayton |
| Shell Refinery | Dear Park |
| Air Products | Deer Park |
| Baker Tool | Deer Park |
| Battle Ground Plant | Deer Park |
| Celanese Chemical Plant | Deer Park |
| Deer Park High School | Deer Park |
| Diamond Alkali Chemical Plant | Deer Park |
| Diamond Chemical | Deer Park |
| Diamond Inc. Fabrication Shop | Deer Park |
| Diamond Shamrock "Big Diamond" aka Oxyvinyls Chemical Plant | Deer Park |
| Dupont Chemical Plant | Deer Park |
| Equistar "Laporte Complex" Ethylene & Ethylene Derivatives Plant | Deer Park |
| Ethyl Corp. Plant | Deer Park |
| Exxon Chemical Plant | Deer Park |
| Houston Lighting & Power (Hl&P) "Sam Bertron" Power Plant | Deer Park |
| Linde Air Products Chemical Plant | Deer Park |
| Lubrizol Chemical Plant | Deer Park |
| M.W. Kellogg Co. | Deer Park |
| National Petrochemical-U.S. Industries (USI)-Millennium-Quanum Chemical Plant | Deer Park |
| Occidental Chemical Plant | Deer Park |
| Pak Tank | Deer Park |
| Phillips Petroleum Plant | Deer Park |
| Rohm & Haas "Houston Plant" Chemical Plant | Deer Park |
| Rohm & Haas "Lone Star" Chemical Intermediates Plant | Deer Park |
| Shell Chemical Plant | Deer Park |
| Shell Oil Refinery | Deer Park |
| Sol Tex | Deer Park |
| Tenneco Chemical Plant | Deer Park |
| Texas Alkyls | Deer Park |
| U.S. Industrial Chemical | Deerpark |
| Del Rio Air Base | Del Rio |
| Laughlin Air Force Base | Del Rio |
| Valverde County Hospital | Del Rio |
| Conway Oil Company | Denison |
| Mrs. Tuckers Shortening | Denison |
| Texoma Medical Center | Denison |
| Vegetable Oil Refinery | Denison |
| Denton Power Plant | Denton |
| First Baptist Church | Denton |
| Southwestern Public Service Power Plant | Denver City |
| Borden Chemical Plant | Diboll |
| Southern Pine aka Temple Lumber Company | Diboll |
| Temple Industries Lumber Mill aka Plywood Plant | Diboll |
| Temple Industries Particle Board Plant | Diboll |
| Temple Industries Saw Mill | Diboll |
| Temple-Inland Fibreboard Plant | Diboll |
| Temple-Inland Paper Mill | Diboll |
| Temple-Inland Plywood/Particleboard Plant | Diboll |
| Temple-Inland Saw Mill | Diboll |
| Houston Lighting & Power (Hl&P) "P.H. Robinson" Power Plant | Dickinson |
| P.H. Robinson Steam Plant | Dickinson |
| Penrico Chemical Plant | Dickinson |
| Humble/Exxon | Dilly |
| Corn Sugar Refinery | Dimmitt |
| Dimmitt Wheat Growers Corn Starch Plant | Dimmitt |
| Shell Oil Refinery | Douglasville |
| Phillips Amonia Plant | Duma |
| Dumas Gasoline Plant | Dumas |
| Phillips Helium/Gas Plant | Dumas |
| Southwestern Public Service Company | Dumas |
| Exxon Plant | Duvall |
| Brooks Air Force Base | Eagle Pass |
| Southwestern Public Service Power Plant | Earth |
| American Oil Company (Amoco) | Edgewood |
| Edgewood Elementary School | Edgewood |
| Pan American Oil Refinery | Edgewood |
| El Campo Aluminum Plant | El Campo |
| May Aluminum Plant | El Campo |
| Asarco Copper Refinery | El Paso |
| Asarco Copper Smelter | El Paso |
| Asarco Oil Refinery | El Paso |
| Austin High School | El Paso |
| Bowie High School | El Paso |
| Chevron Oil Refinery | El Paso |
| Chevron Service Station | El Paso |
| Edgemere School | El Paso |
| El Paso Airport | El Paso |
| El Paso Bank Building | El Paso |
| El Paso Civic Center | El Paso |
| El Paso Community College | El Paso |
| El Paso Electric Co. | El Paso |
| El Paso Electric Stations | El Paso |
| El Paso Electrical Power Plant | El Paso |
| El Paso Federal Courthouse | El Paso |
| El Paso International Airport | El Paso |
| El Paso National Bank | El Paso |
| El Paso Tech | El Paso |
| El Paso Technical High School | El Paso |
| El Paso Technical School | El Paso |
| Featherlite Plant | El Paso |
| Fort Bliss Army Base | El Paso |
| Hotel Dieu Hospital | El Paso |
| J. C. Penney Store | El Paso |
| Levi Strauss Plant | El Paso |
| Lydia Patterson High School | El Paso |
| Newman Power Plant | El Paso |
| Newman Pump Station | El Paso |
| North El Paso Power Plant | El Paso |
| Paso Del Norte Hotel | El Paso |
| Peyton Meat Packing Plant | El Paso |
| Phelps Dodge Copper Refinery | El Paso |
| Phillips Dodge Oil Refinery | El Paso |
| Sears, Roebuck Building | El Paso |
| Sierra Hospital | El Paso |
| Standard Oil Gas Refinery | El Paso |
| Standard Oil Gas Station | El Paso |
| Standard Oil Refinery | El Paso |
| State National Bank | El Paso |
| Sun Towers Hospital | El Paso |
| Swift Packing | El Paso |
| Texaco Oil Refinery | El Paso |
| Texas Commerce Bank | El Paso |
| Thomas Jefferson High School | El Paso |
| Thomason General Hospital | El Paso |
| University Of Texas At El Paso | El Paso |
| William Beaumont Army Hospital | El Paso |
| Wyler Industrial Works Furnace Fabrication Shop | El Paso |
| Wyler Industrial Works Plant | El Paso |
| Ysleta Elementary School | El Paso |
| Ysleta High School | El Paso |
| Elgin Standard Brick Factory | Elgin |
| Phillips Pump Station | Etter |
| Phillips Refinery | Etter |
| Northeast Community Hospital/Harris Hospital | Euless |
| Champion Paper Mill | Evadale |
| East Texas Pulp & Paper Mill aka Evadale Paper Mill | Evadale |
| Temple-Eastex Pulpwood & Paper Mill | Evadale |
| Temple-Inland aka Eastex Paper Mill | Evadale |
| Fairfield Power Plant | Fairfield |
| T.U. Electric | Fairfield |
| Texas Utilities Power Plant | Fairfield |
| TXU Power Plant | Fairfield |
| Exxon La Gloria Refinery | Falfurrias |
| Falfurrias High School | Falfurrias |
| Humble Gas Plant | Falfurrias |
| La Gloria Oil Refinery and Gas Plant | Falfurrias |
| Central Power & Light Power Plant | Fannin |
| Floresville Hospital | Floresville |
| Barney- Davis Power Plant | Flower Bluff |
| Houston Lighting & Power (Hl&P) Steam Plant | Fort Bend |
| Fort Hood | Fort Hood |
| Northern Natural Gas Plant | Fort Stockton |
| All Saints Episcopal Hospital | Fort Worth |
| American Airlines Corporation Headquarters | Fort Worth |
| American Airlines Training Center | Fort Worth |
| American Asphalt-Johns Manville Plant | Fort Worth |
| American Cyanamid Chemical Plant | Fort Worth |
| ARA Manufacturing Plant | Fort Worth |
| Armour Meat Packing Plant | Fort Worth |
| Bell Helicopter/Textron | Fort Worth |
| Bomber Plant Building | Fort Worth |
| Bunge Oil Refinery | Fort Worth |
| Burlington Northern Santa Fe Railroad | Fort Worth |
| Carswell Air Force Base | Fort Worth |
| Carswell Air Force Base Hospital | Fort Worth |
| Chicago Pneumatic Company | Fort Worth |
| Colonial Country Club | Fort Worth |
| Consolidated Aircraft Plant | Fort Worth |
| Cook Children's Medical Center | Fort Worth |
| Dannon Yogurt Plant | Fort Worth |
| Eagle Mountain Lake Powerhouse | Fort Worth |
| Estes Packing Plant | Fort Worth |
| Fort Worth Courthouse | Fort Worth |
| Fort Worth Poultry & Eggs | Fort Worth |
| General Dynamics Plant | Fort Worth |
| General Motors Corporation Auto Parts Warehouse | Fort Worth |
| General Motors Plant | Fort Worth |
| GSA Building (s) | Fort Worth |
| Handley Power Plant | Fort Worth |
| Hanley Power Plant | Fort Worth |
| Harris Methodist Hospital | Fort Worth |
| Kimball Art Museum | Fort Worth |
| Lockheed Martin Plant | Fort Worth |
| Lone Star Gas Company | Fort Worth |
| Miller Brewery | Fort Worth |
| Mrs. Baird's Bakery | Fort Worth |
| National Linen Plant | Fort Worth |
| Neiman Marcus | Fort Worth |
| Premier Oil Refinery | Fort Worth |
| Purina Pet Food Plant | Fort Worth |
| Rock Island Railroad | Fort Worth |
| Sears, Roebuck | Fort Worth |
| Shady Oaks Country Club | Fort Worth |
| Southwestern Bell Telephone Building | Fort Worth |
| Stauffer Chemical Plant | Fort Worth |
| Swift Packing Plant | Fort Worth |
| Tarrant County Courthouse | Fort Worth |
| Texas Christian University (TCU) | Fort Worth |
| Texas Commerce Bank | Fort Worth |
| Texas Electric Service - Eagle Mountain Lake | Fort Worth |
| Texas Power & Light | Fort Worth |
| Texas Steel Manufacturing Plant | Fort Worth |
| Texas Utilities (TXU) Eagle Mountain Plant | Fort Worth |
| Texas Utilities (TXU) General Office | Fort Worth |
| Water Tank (Eagle Mountain Lake) | Fort Worth |
| Will Rogers Coliseum | Fort Worth |
| Basf Corporation | Freeport |
| Basic Chemical Plant | Freeport |
| Celanese Chemical Plant | Freeport |
| Chemstrand-Monsanto-Shintek Chemical Plant | Freeport |
| Chintex Chemical Plant | Freeport |
| Dow Chemical Docks | Freeport |
| Dow Chemical Plant | Freeport |
| Dow Chemical Plant "Oyster Creek Division" | Freeport |
| Dow Chemical Plant A | Freeport |
| Dow Chemical Plant A B C | Freeport |
| Dow Chemical Plant B | Freeport |
| Dow Chemical Plants A And B | Freeport |
| Dow-Badische-Basf Chemical Plant | Freeport |
| Dupont Chemical Plant | Freeport |
| Freeport Sulphur Plant | Freeport |
| Houston Lighting and Power (HL&P) Headquarters | Freeport |
| Missouri Pacific Railroad | Freeport |
| Nalco Chemical Plant | Freeport |
| Rhone Poulenc "Brazosport" Chemical Plant | Freeport |
| Schenectady Chemical Plant | Freeport |
| Shir-Tech Plant | Freeport |
| Stauffer Chemical Plant | Freeport |
| Humble-Exxon Oil Refinery | Freer |
| Mobil Oil Refinery | Freer |
| Breen Chemical | Friendswood |
| T.U. Electric | Frisco |
| T.U. Electric (Collin Power Plant) | Frisco |
| Texas Power & Light Powerhouse | Frisco |
| Amerada-Hess Oil Storage Facility (Tank Farm) | Galena Park |
| General American Tank Erection (Gatx) Storage Tank And Tanker Facility | Galena Park |
| Warren Petroleum-Chevron-Standard Oil Storage Facility (Tank Farm) | Galena Park |
| American Oil Company (Amoco) | Galveston |
| Docks, Ports, Shipyards & Ship Channels | Galveston |
| Docks, Wharf & Shipyards | Galveston |
| Exxon | Galveston |
| Falstaff Brewery | Galveston |
| Galveston Community College | Galveston |
| Galveston Docks | Galveston |
| Galveston Shipyard | Galveston |
| Goodyear Tire & Rubber | Galveston |
| Hi Grade Packing | Galveston |
| Islander Beach Hotel | Galveston |
| Lone Star Power Plant | Galveston |
| Moody Compress | Galveston |
| Port Of Galveston | Galveston |
| Port Of Galveston - Pier 41 | Galveston |
| Todd Shipyard - Nuclear Service Center | Galveston |
| Todd Shipyard-Pelican Island | Galveston |
| University Of Texas Medical Branch (Utmb) Marine Unit "Pelican Island" Buildings | Galveston |
| University Of Texas Medical Building (Utmb) | Galveston |
| University Of Texas Medical Center | Galveston |
| Utmb Psychiatric Hospital | Galveston |
| City Of Garland | Garland |
| Decker Meats | Garland |
| Eco Lab Chemical Plant | Garland |
| Garland Community Hospital | Garland |
| Garland Municipal Power Plant | Garland |
| Garland Power & Light | Garland |
| Garland Powerhouse | Garland |
| Intercontinental Mfg. Co. Bomb Casing Plant | Garland |
| Kraft Foods | Garland |
| Lake Lavon Power Plant | Garland |
| Lake Ray Hubbard Power Plant | Garland |
| Newman Power Plant | Garland |
| Resistal Hat Company | Garland |
| Sears, Roebuck Warehouse | Garland |
| Texas Youth Facility | Gatesville |
| Southwest Elecrtic Power Plant | Gentry |
| Southwestern University | Georgetown |
| Tu Plant | Girvin |
| Texas Utility Service | Glen Rose |
| El Paso Natural Gas Refinery & Compressor Station | Goldsmith |
| Phillips Gas Plant | Goldsmith |
| Naval Air Station (NAS) | Goliad |
| Humble Refinery | Gonzales |
| Graham Power Plant | Graham |
| Texas Utilities Power Plant | Graham |
| Tu Electric Power Plants | Graham |
| Txu Power Plant | Graham |
| De Cordovia Bend Power Plant | Granbury |
| Granbury Powerhouse | Granbury |
| Exxon Oil Refinery | Grand Falls |
| Chance Vaught/Bell Helicopter | Grand Prairie |
| Chance Vought Aircraft | Grand Prairie |
| Dallas Power & Light | Grand Prairie |
| Eagle Mountain Lake Steam Plant | Grand Prairie |
| General Motors Plant | Grand Prairie |
| LTV Aerospace Plant | Grand Prairie |
| LTV/ Chance Vought/ Vought Aircraft | Grand Prairie |
| LTV/Chance Vought | Grand Prairie |
| Mountain Creek Generating Station | Grand Prairie |
| Mountain Creek Power Plant | Grand Prairie |
| Mt. Creek Powerhouse | Grand Prairie |
| Morton Salt | Grand Saline |
| Decordova Unit 1 Power Plant | Grandbury |
| Houston Lighting & Power (H.L.&P.) Steam Plant | Greenbay |
| Armco Steel Mill | Greens Bayou |
| Diamond Shamrock/Diamond Alkali/Occidental/Oxychem Chemical Plant | Greens Bayou |
| Houston Power & Light Power Plant | Greens Bayou |
| Nyotex Chemical Plant | Greens Bayou |
| Greenville Power Plant | Greenville |
| LTV Aircraft - E-Systems | Greenville |
| Gregory Portland High School | Gregory |
| Reynolds Docks | Gregory |
| Reynolds Metals San Patricio Plant | Gregory |
| Reynolds Metals Sherwin Plant | Gregory |
| Atlantic Richfield Oil Refinery | Groves |
| Fina Refinery | Groves |
| Phillips Gas "Sherhan" Plant | Gruver |
| H.W. Perkie | Hallsville |
| Hallsville Power Plant | Hallsville |
| Handley Power Plant | Handley |
| Valley Baptist Medical Center | Harlingen |
| Haskell Power Plant | Haskell |
| West Texas Utilities | Haskell |
| Exxon Chemical Plant | Hawkins |
| Exxon Gas Plant | Hawkins |
| Exxon Oil Refinery | Hawkins |
| Anderson Hickey Manufacturing Plant | Henderson |
| Henderson Clay Products Plant | Henderson |
| Holly Sugar Plant | Hereford |
| Certainteed Asbestos Cement Pipe Plant | Hillsboro |
| Keasby & Mattison Plant | Hillsboro |
| 1St City Bank Building | Houston |
| A.O. Smith/Armco Steel Mill | Houston |
| Aber Insulation Plant | Houston |
| Aldeen School | Houston |
| Aldene High School | Houston |
| Allied Sheetmetal And Roofing Fabrication Plant | Houston |
| Anchor Hocking Glass Plant | Houston |
| Anheuser-Busch Brewery | Houston |
| Anheuser-Busch Glass Plant | Houston |
| ARCO Chemical Plant | Houston |
| ARCO Industries | Houston |
| ARCO Warehouse | Houston |
| Armco Refinery | Houston |
| Armco Steel | Houston |
| Armco Steel Mill | Houston |
| Armco Steel Office Buildings | Houston |
| Armco Steel-Houston | Houston |
| Armstrong Cork Plant | Houston |
| Astrodome | Houston |
| Astrodome Stadium Complex | Houston |
| Astrodome Utility Lines | Houston |
| Astroworld | Houston |
| Atlas Pipe | Houston |
| Babcock Borsig Power Inc. | Houston |
| Baker Tools | Houston |
| Bank Of The Southwest Building | Houston |
| Baylor Medical Center | Houston |
| Baylor Medical College | Houston |
| Beaumont Well Works | Houston |
| Bell Telephone Building (s) | Houston |
| Belmas Corp. | Houston |
| Ben Taub Hospital | Houston |
| Big Three Industries - Airliquide Headquarters | Houston |
| Borden Milk Products Plant | Houston |
| Brown & Root Building | Houston |
| Brown & Root Fabricating | Houston |
| Brown & Root Fabrication Shop | Houston |
| Brown & Root Marine Yard | Houston |
| Brown & Root Shipyard | Houston |
| Brown & Root Yard | Houston |
| Brown & Root, Inc. | Houston |
| Browns Shipyard | Houston |
| Burbank School | Houston |
| Cameron Iron Works Foundry | Houston |
| Cargill Grain Elevator | Houston |
| Celanese Chemical Plant | Houston |
| Celotex Roofing Plant | Houston |
| Century Building | Houston |
| Charter Oil Refinery | Houston |
| Charter Oil/Phibro Oil Refinery | Houston |
| Chevron Refinery | Houston |
| Chicago Bridge & Iron Fabricating Plant | Houston |
| Chimney Rock Retirement Home | Houston |
| Chronicle Building | Houston |
| Cities Service Refinery | Houston |
| City Docks | Houston |
| City Hall Building | Houston |
| City Jail | Houston |
| City Of Houston | Houston |
| City Of Houston Court Building Roofs | Houston |
| City Of Houston Probation Dept. & Court Complex | Houston |
| Cleco | Houston |
| Coal Fired Power Plant | Houston |
| Coastal Concrete Pipe | Houston |
| Coca-Cola Bottling Plant | Houston |
| Coca-Cola Plant | Houston |
| Compaq Computer Co. | Houston |
| Conoco Tower High Rise Office Building | Houston |
| Consolidated/Stauffer Chemical Plant | Houston |
| Consolidated-Stauffer Chemical Plant | Houston |
| Continental Can | Houston |
| Continental Can Plant | Houston |
| Crown Central Oil Refinery | Houston |
| Crown Cork & Seal Plant | Houston |
| Cypress-Fairbanks Hospital | Houston |
| Delta Engineering Fabrication Shop | Houston |
| Diagnostic Clinic | Houston |
| Diamond Chemical Plant | Houston |
| Diamond Shamrock | Houston |
| Docks, Ports, Shipyards & Ship Channels | Houston |
| Dow Chemical Plant | Houston |
| Dupont Chemical Plant | Houston |
| Dupont Paint Plant | Houston |
| Elf Ato-Chem | Houston |
| Ellington Field Air Force Base | Houston |
| Ethyl Corporation | Houston |
| Ethylene Gulf Coast (Egc) | Houston |
| Exxon | Houston |
| Exxon Building | Houston |
| Exxon Bulk Station | Houston |
| Exxon Gas Station | Houston |
| Exxon Oil Refinery | Houston |
| Exxon/Mobil Olefins Plant - Mobile Olefins Plant | Houston |
| Fondren Middle School | Houston |
| Ford Autobody Plant | Houston |
| G. A. F. Tile Plant | Houston |
| Gable Street Plant | Houston |
| General Electric Plant | Houston |
| General Foods Plant | Houston |
| Goodyear Tire & Rubber Synthetic Rubber Plant | Houston |
| Greens Bayou Steam Plant | Houston |
| Gulf Atlantic Warehouse | Houston |
| Gulf Coast Cement Plant | Houston |
| Gulf Coast Portland Cement Plant | Houston |
| Gulf Oil Chemical & Research | Houston |
| Gulf Reduction Plant | Houston |
| Gulf States Asphalt Plant | Houston |
| Gulf/Chevron Plant | Houston |
| Harris County Civil Court Building | Houston |
| Harris County Courthouse | Houston |
| Harris County Criminal Court | Houston |
| Hermann Hospital | Houston |
| Hill Petroleum Oil Refinery Henry Vogt Boiler Refurbishment | Houston |
| Hill Refinery | Houston |
| Hilton Hotel | Houston |
| Hiram Clark Power Plant | Houston |
| Honeywell Office Building | Houston |
| Houston Belt & Terminal Railroad | Houston |
| Houston Chemical | Houston |
| Houston Chronicle Building | Houston |
| Houston City Hall | Houston |
| Houston City Jail | Houston |
| Houston Club Building | Houston |
| Houston Community College | Houston |
| Houston Convention Center | Houston |
| Houston Diagnostic Clinic | Houston |
| Houston House Apartment Building | Houston |
| Houston Light And Power (Hl&P) Steam Plant | Houston |
| Houston Lighting & Power (Hl&P) "Greens Bayou" Power Plant | Houston |
| Houston Lighting & Power (Hl&P) "T.H. Wharton" Power Plant | Houston |
| Houston Lighting & Power (Hl&P) Office Building | Houston |
| Houston Lighting & Power (Hl&P) South Houston Service Center | Houston |
| Houston Linen Service Plant | Houston |
| Houston Medical Center | Houston |
| Houston Museum Of Art | Houston |
| Houston Natural Gas | Houston |
| Houston Police Station | Houston |
| Houston Power & Light Co. - Powerhouse | Houston |
| Houston Power & Light Power Plant | Houston |
| Houston Ship Repair | Houston |
| Houston Shipbuilding Shipyard | Houston |
| Houston Shipyard | Houston |
| Hudson Engineering/Marine Shipyard | Houston |
| Hughes Machine Shop | Houston |
| Hughes-Christensen-Baker Oilfield Tools Plant | Houston |
| Humble Oil Refinery | Houston |
| Humble Oil Service Station | Houston |
| Humble-Exxon Oil Refinery | Houston |
| Hunt Oilfield Tools Plant | Houston |
| Hunt Tool Co. Fabrication Yard | Houston |
| IBM | Houston |
| Ideal Cement | Houston |
| Industrial Insulators | Houston |
| International Paper | Houston |
| International Paper Mill | Houston |
| J.T. Thorpe Insulation Plant | Houston |
| Jc Penney | Houston |
| Jcpenney | Houston |
| Jones Hall | Houston |
| Joseph Mccollum Company | Houston |
| Joske's | Houston |
| Kaiser Aluminum Plant | Houston |
| Klein Independent School District | Houston |
| Koppers Chemical Plant | Houston |
| Kroger Store | Houston |
| Kroger Stores | Houston |
| Kroger Supermarket Warehouse | Houston |
| Lee Bond Construction Company | Houston |
| Lone Star Industries | Houston |
| Lykes Bros. Steamship Co. | Houston |
| M.D. Anderson Hospital | Houston |
| M.D. Anderson Medical Center | Houston |
| Madison High School | Houston |
| Magnolia-Socony-Mobil-British Petroleum (BP) Oil Refinery And Chemical Plant | Houston |
| Maloney Metal Fabricating Shop | Houston |
| Maryland Club Coffee Plant | Houston |
| Maxwell House Coffee Plant | Houston |
| Mcevoy Plant | Houston |
| Memorial Baptist Hospital | Houston |
| Memorial Hermann Garage | Houston |
| Memorial Hospital | Houston |
| Merichem Company | Houston |
| Merisol Chemical Plant fka Merichem Chemical Plant | Houston |
| Methodist Hospital | Houston |
| Milby High School | Houston |
| Mobil Chemical Plant | Houston |
| Mobil Steel Corporation | Houston |
| Montgomery Ward Department Store Warehouse Model | Houston |
| Mosher Steel | Houston |
| Mrs. Bairds (Nka Grupo-Bimbo) | Houston |
| Murrey Rubber Company | Houston |
| Nabisco Bakery | Houston |
| Nabisco Plant | Houston |
| NASA - Manned Space Flight Center At Ellington Afb | Houston |
| NASA Field Test Branch Ellington Air Force Base | Houston |
| NASA Johnson Space Center | Houston |
| National Lead | Houston |
| Nava Bay Hospital | Houston |
| North Harris Community College | Houston |
| North Houston Power Plant | Houston |
| Occidental Chemical | Houston |
| Old First City Bank | Houston |
| Owens Corning Roofing Co. | Houston |
| Oxcerine Plant | Houston |
| P&S Rice Plant | Houston |
| Pacific Molasses | Houston |
| Pennwalt Chemicals | Houston |
| Petro Tex Chemical | Houston |
| Petro Texas Chemical Corp. | Houston |
| Petrofina Refinery | Houston |
| Petro-Tex Butadiene Plant | Houston |
| Petro-Tex Chemical | Houston |
| Petrotex Oil Refinery | Houston |
| Petrotex-Denka Oil Refinery | Houston |
| Philbro Refinery | Houston |
| Phillip Carey Manufacturing Plant | Houston |
| Phillips Chemcial Plant | Houston |
| Platzer Shipyard | Houston |
| Port Of Houston | Houston |
| Port Of Houston - Adams Terminal | Houston |
| Port Of Houston - City Docks And Barber Cut Docks | Houston |
| Port Of Houston Docks | Houston |
| Port Of Houston Shipyard | Houston |
| Port Of Houston, Docks And Ship Channel | Houston |
| Proler Steel Scrapyard | Houston |
| Prudential Building | Houston |
| Psychiatric Hospital | Houston |
| Public Laundries Inc. | Houston |
| Quality Electric Plant | Houston |
| Quality Steel Castings | Houston |
| Rainbo Bakery | Houston |
| Rainbo Baking Plant | Houston |
| Rainbow Bakery | Houston |
| Reed Road School | Houston |
| Reed Tool | Houston |
| Reed Tool Machine Shop | Houston |
| Reed-Baker-Camco "Roller-Bit" Oilfield Tools Plant | Houston |
| Regency Heights 30-Story Hotel | Houston |
| Reichold Chemical Plant | Houston |
| Rice Hotel | Houston |
| Rice Mill | Houston |
| River Oaks Apartment Complex | Houston |
| S & R Tool & Supply Company | Houston |
| Sam Houston Hotel | Houston |
| Sam Houston Library | Houston |
| Sam Houston University | Houston |
| San Jacinto Building | Houston |
| Schlumberger Fab Shop | Houston |
| Schlumberger Oil Service Office Building | Houston |
| School Administration Building | Houston |
| Sears Roebuck | Houston |
| Sears, Roebuck | Houston |
| Sears, Roebuck Automotive Center | Houston |
| Sears, Roebuck Warehouse | Houston |
| Shamrock Hotel | Houston |
| Sharpstown High School | Houston |
| Sheffield Houston Works | Houston |
| Shell I Office Building | Houston |
| Shell Oil Building | Houston |
| Shell Oil Laboratory | Houston |
| Shell Oil Refinery | Houston |
| Shell Plaza I And Ii Office Building Complex | Houston |
| Shell Research Facility | Houston |
| Sheraton Hotel | Houston |
| Signal Oil & Gas Plant | Houston |
| Signal Oil A/K/A Charter Oil Refinery | Houston |
| Sinclair Copper Plant | Houston |
| Sinclair Gas Station | Houston |
| Sinclair Rubber - Petrotex Chemical Plant | Houston |
| South Coast Plants | Houston |
| Southern Pacific Chaney Yard | Houston |
| Southern Pacific Englewood Yard | Houston |
| Southern Pacific Railroad | Houston |
| Southern Pacific Railroad Roundhouse And Backshop | Houston |
| Southwest Fabricating | Houston |
| Southwest Fabricating & Welding Shop | Houston |
| Southwest Industries Fabrication Shop | Houston |
| Southwest Pipe Fabricating Shop | Houston |
| St. Elizabeth Hospital | Houston |
| St. Joe Professional Building | Houston |
| St. Joseph Professional Building | Houston |
| St. Lukes Hospital | Houston |
| Standard Asbestos Plant | Houston |
| Stauffer Chemical Plant | Houston |
| Sterling High School | Houston |
| Sterling Packing & Gasket Co. | Houston |
| Sun Oil | Houston |
| T.H. Wharton Steam Plant | Houston |
| Teague Middle School | Houston |
| Tenn Tex | Houston |
| Tenneco | Houston |
| Tenneco Gas Refinery | Houston |
| Tenneco Office Building | Houston |
| Tenneco Plant - Pasadena Plant | Houston |
| Tenn-Tex Corporation | Houston |
| Texaco Headquarters | Houston |
| Texaco Oil Refinery | Houston |
| Texaco Service Station | Houston |
| Texas Commerce Tower | Houston |
| Texas Commercial Bank | Houston |
| Texas Electric Steel Casting | Houston |
| Texas Forge Plant | Houston |
| Texas National Bank | Houston |
| Texas Petro Chemical | Houston |
| Texas Petrochem Chemical Plant | Houston |
| Texas Power & Light | Houston |
| Texas Southern University | Houston |
| Texas State University | Houston |
| Texas Women's University | Houston |
| Tex-Tube Plant | Houston |
| Todd San Jacinto Shipyard | Houston |
| Transco Gas Pipeline | Houston |
| Transcontinental Gas Corp. | Houston |
| Transcontinental Pipeline | Houston |
| Trinity Industries | Houston |
| Triple B Plant/Refinery | Houston |
| Trunk Line Gas Building | Houston |
| Tube-Kote Pipe Spraying Plant | Houston |
| Tubescope | Houston |
| U.S. Industries aka Wyatt Industries | Houston |
| U.S. Post Office | Houston |
| U.S. Post Office (s) | Houston |
| U.S. Steel Mill | Houston |
| Uncle Ben Rice Plant | Houston |
| Union Carbide Headquarters | Houston |
| Union Carbide Plant | Houston |
| United Gas Pipeline | Houston |
| University Of Houston | Houston |
| University Of Houston - Science Building | Houston |
| University Of Houston Medical Center | Houston |
| Uvalde Rock Asphalt Floor Tile Plant | Houston |
| Various Houston Light & Power Plants | Houston |
| Vector Cable | Houston |
| Western Geophysical Building | Houston |
| Wharton Junior College | Houston |
| Wyatt Boiler Works | Houston |
| WYATT's Metal & Boiler Works | Houston |
| Wyatt's Rubber & Plastic Plant | Houston |
| Yates High School | Houston |
| YMCA Building | Houston |
| Texaco Pipeline | Houston To Beaumont |
| Cotton Gin Mill | Hubbard |
| Exxon Oil Refinery | Humble |
| Huntsville Hospital | Huntsville |
| Sam Houston State University | Huntsville |
| Texas Department Of Corrections | Huntsville |
| Bell Helicopter/Textron | Hurst |
| Dow Chemical | Ingleside |
| Dupont Chemical Plant | Ingleside |
| Ei Dupont | Ingleside |
| Reynolds Metals Plant | Ingleside |
| Dr. Pepper Bottling Plant | Irving |
| Frito-Lay Plant | Irving |
| Irving Hospital | Irving |
| Irving Mall | Irving |
| Zales Jewlery Company, Headquarters | Irving |
| Gulf State Incinerator | Jacksonville |
| Jackson Powerhouse | Jacksonville |
| Jacksonville Texas High School | Jacksonville |
| Stryker Creek Power Plant | Jacksonville |
| Texas Power & Light Power Plant | Jacksonville |
| Jasper High School | Jasper |
| Owens-Illinois Plywood Mill | Jasper |
| Lake Of The Pines Powerhouse | Jefferson |
| Wilkes Power Station | Jefferson |
| Houston Power & Light | Jewett |
| Humble Gas Plant | Jourdanton |
| Lone Star Ordinance Plant | Karnack |
| Longhorn Ordinance Plant | Karnack |
| Thiokol Chemical Plant | Karnack |
| Humble Oil | Katy |
| Humble Oil aka Exxon Gas Plant | Katy |
| Katy ISD | Katy |
| Katy Refinery | Katy |
| Angelina County Lumber Mill Company | Keltys |
| Houston Lighting & Power Power Plant | Kemah |
| Lone Star Fertilization Plant | Kerens |
| Gulf Oil Refinery | Kermit |
| Sid-Richardson Gas Plant | Kermit |
| Shriner`S Institute | Kerrville |
| Texas State Hospital | Kerrville |
| Veterans' Administration Hospital | Kerrville |
| Humble Oil Refinery | Kilgore |
| Kilgore Junior College | Kilgore |
| Noxilee Power Plant | Kilgore |
| Petrolite Chemical Plant | Kilgore |
| Central Texas College | Killeen |
| Fort Hood Army Base | Killeen |
| Killeen Elementary School | Killeen |
| Texas Power & Light | Killeen |
| Celanese Chemical Plant | Kingsville |
| E.I. Dupont | Kingsville |
| Exxon King Ranch Gas Plant | Kingsville |
| Exxon Oil Field | Kingsville |
| Exxon Oil Refinery | Kingsville |
| Hayes High School | Kyle |
| La Gloria Gas Plant | La Gloria |
| Fayette Memorial Hospital | La Grange |
| Lower Colorado River Authority (LCRA) Power Plant | La Grange |
| Chemetron Chemical Plant | La Porte |
| Dow "Polyurethane" Chemical Plant | La Porte |
| Dupont Chemical Plant | La Porte |
| Tenneco Plant - Barbours Cut | La Porte |
| Lake Creek Steam Plant | Lake Creek |
| Wilkes Power Plant | Lake Of The Pines |
| Webster's Plant | Lamark |
| Lamesa Cotton Gin | Lamesa |
| Chemtron Plant | LaPorte |
| Diamond Shamrock "Little Diamond - Oxyvinyls Battleground Chemical Plant | LaPorte |
| Dow Chemical Plant | LaPorte |
| Fina aka Atofina Chemical Plant | LaPorte |
| Geon/B.F. Goodrich/Oxyvinyl | LaPorte |
| Goodyear Chemical Plant | LaPorte |
| Hoechst Celanese Chemical Plant | LaPorte |
| ICI Underwood Chemical Plant | LaPorte |
| Mercy Hospital | Laredo |
| GTE Building | Las Colinas |
| Exxon Plant | LaSalle |
| Stanlin Oil And Gas | Levelland |
| Moss Bluff Sulphur Plant | Liberty |
| Cotton Spinning Mill | Littlefield |
| General Dynamics Plant | Lone Star |
| Lone Star Steel Company | Lone Star |
| Southwestern Electric Power Plant | Lone Star |
| American National Can | Longview |
| Continental Can Plant | Longview |
| Courthouse | Longview |
| Exxon Pipeline Booster Station | Longview |
| Knox-Lee Power Plant - Lake Cherokee Power Plant | Longview |
| La Gloria Oil Refinery | Longview |
| Letourneau College | Longview |
| Letourneau Fabricating Shop | Longview |
| Longview First Baptist Church | Longview |
| Longview Hospital | Longview |
| LTV Plant | Longview |
| Marathon Le Tourneau Oil Refinery | Longview |
| Schlitz Brewery/Stroh's Brewery | Longview |
| Schlitz Can Plant | Longview |
| Sears, Roebuck | Longview |
| Skelly Oil Refinery | Longview |
| Texas Eastman Chemical Plant | Longview |
| Texas Eastman Kodak | Longview |
| Citizens National Bank | Lubbock |
| City Of Lubbock | Lubbock |
| City Of Lubbock Power Plant | Lubbock |
| Coronado High School | Lubbock |
| Cotton Compress | Lubbock |
| Holly Avenue 1 Power Plant | Lubbock |
| Jones Station | Lubbock |
| Jones Station Power Plant | Lubbock |
| Lubbock Cotton Oil Processing Plant | Lubbock |
| Lubbock Library | Lubbock |
| Lubbock Methodist Hospital | Lubbock |
| Lubbock Powerhouse | Lubbock |
| Texas Tech Health Science Center | Lubbock |
| Texas Tech Hospital | Lubbock |
| Texas Tech University (Men's Dorms) | Lubbock |
| Abitibi Consolidated Paper Mill | Lufkin |
| Champion Papermill | Lufkin |
| E-Tex International | Lufkin |
| Ethyl Gasoline Paper Mill | Lufkin |
| Georgia Pacific Plant | Lufkin |
| International Paper Mill | Lufkin |
| Lufkin Foundry And Machine Company | Lufkin |
| Lufkin Industries Machine Shop | Lufkin |
| Lufkin Paper Mill | Lufkin |
| Lufkin Trailer Plant | Lufkin |
| Lufkin Trailers | Lufkin |
| Memorial Hospital | Lufkin |
| Natural Gas Pipeline Co. Of America | Lufkin |
| Orange Pulp And Paper | Lufkin |
| Plymouth & GMC Dealership | Lufkin |
| Southland Paper Mill | Lufkin |
| Temple Steel | Lufkin |
| Texas Foundries | Lufkin |
| Woodland Heights Medical Center | Lufkin |
| Exxon Oil Refinery | Manvel |
| Phillips 66 Plant | Manvel |
| Marathon Oil Refinery | Markham |
| Atlas Chemical Powder Plant | Marshall |
| Darco Plant | Marshall |
| Exell Helium Plant | Masterson |
| Central Power & Light (Cl&P) | McAllen |
| McAllen International Airport | McAllen |
| McAllen Isd | McAllen |
| McAllen Water Plant | McAllen |
| McCamey Power Plant | McCamey |
| Alliant Tech Systems Rocket Propulsion Plant | McGregor |
| Eastfield Community College | Mesquite |
| Lake Ray Hubbard Power Plant | Mesquite |
| Mesquite High School | Mesquite |
| Mesquite Independent School District | Mesquite |
| Montgomery Ward | Mesquite |
| North Mesquite High School | Mesquite |
| Cosden-Fina Oil Refinery | Midland |
| First National Bank Building | Midland |
| Midland College | Midland |
| Midland High School | Midland |
| Midland Hospital | Midland |
| Phillips Refinery | Midland |
| Southwestern Bell Telephone | Midland |
| Gifford Hill Cement Plant | Midlothian |
| Texas Industries | Midlothian |
| Bates Power Plant | Mission |
| Missioin Water Plant | Mission |
| Cooper Oilfield Tools Plant | Missouri City |
| WKM Plant | Missouri City |
| Permian Basin Power Plant | Monahans |
| Texas Utilities Power Plant | Monahans |
| Exxonmobil Polyethylene Plant | Mont Belvieu |
| Gulf Oil | Mont Belvieu |
| Mont Belvieu Elementary School | Mont Belvieu |
| Warren Petroleum-Chevron-Standard Oil Storage Facility (Tank Farm) | Mont Belvieu |
| Monticello Power Plant | Monticello |
| TXU Power Plant | Monticello |
| International Sulphur Mound | Mount Pleasant |
| Monticello Winfield Mine | Mount Pleasant |
| Mount Pleasant Power Plant | Mount Pleasant |
| Pilgrims Pride Packing Plant | Mount Pleasant |
| T.U. Electric Power Plant | Mount Pleasant |
| Warren Petroleum Pumping Station | Mt. Belvieu |
| Southwestern Public Service Power Plant | Muleshoe |
| Citco Gas Plant | Myrtle Springs |
| Stephen F. Austin College | Nacogdoches |
| Gulf States Power Plant | Navasota |
| Neches Chemical Plant | Neches |
| Big Three Industries aka Airliquide Gas Plant | Nederland |
| Jefferson Chemical | Nederland |
| Neches Butane Plant | Nederland |
| Pure Oil-Union 76-Union Oil Co. "Beaumont Works" Oil Refinery | Nederland |
| Sun Oil (Sunoco) Refinery | Nederland |
| Unical | Nederland |
| Union 76 Oil Refinery | Nederland |
| New Braunfels Hospital | New Braunfels |
| Valley Mills Textile | New Braunfels |
| Stryker Creek Power Plant | New Summerfield |
| Louisiana Pacific Paper Mil | New Waverly |
| Texas Gulf Sulphur Company Plant | Newgulf |
| Southwestern Bell Telephone | Oak Cliff |
| 1St National Bank Building | Odessa |
| Amoco | Odessa |
| Dora Roberts Gas Plant | Odessa |
| El Paso Natural Gas Refinery | Odessa |
| Odessa Butadiene | Odessa |
| Odessa Coliseum | Odessa |
| Odessa Hospital | Odessa |
| Pan American Oil | Odessa |
| Phillips Refinery | Odessa |
| Rexall Refinery (Plastics Plant) | Odessa |
| Rexalt Mineral-Rexall-Rexene Chemical Plant | Odessa |
| Shell Oil & Gas Plant | Odessa |
| Star Insulators | Odessa |
| Chevron Phillips "Sweeny" Chemical Plant | Old Ocean |
| Phillips 66 Oil Refinery | Old Ocean |
| A. Schulman Plastic Plant | Orange |
| Allied Chemical Plant | Orange |
| American Bridge Shipyard | Orange |
| Amoco Production Plant | Orange |
| B.F. Goodrich Plastics Plant | Orange |
| B.F. Goodrich Tire & Rubber Plant | Orange |
| Bayer Chemical Plant | Orange |
| Bethlehem Shipyard | Orange |
| Bridgestone Firestone Chemical Plant | Orange |
| Champion Paper Mill | Orange |
| Chevron Phillips Plastics Plant | Orange |
| Consolidated Steel Shipyard | Orange |
| Degussa Engineered Carbon Black Plant | Orange |
| Dupont Chemical Plant | Orange |
| Dupont Warehouse | Orange |
| Firestone Butadiene | Orange |
| Firestone Tire & Rubber Plant | Orange |
| Gulf States Utilities | Orange |
| Gulfport Shipyard | Orange |
| Levingston Shipbuilding Co. | Orange |
| Orange Papermill | Orange |
| Orange Shipyard | Orange |
| Owens-Illinois/Inland Paper Mill | Orange |
| Sabine River Water Plant | Orange |
| Sabine River Works | Orange |
| Temple-Inland A.K.A. Eastex Paper Mill | Orange |
| U.S. Steel Fabrication Shop | Orange |
| U.S. Steel Shipyard | Orange |
| Bridgestone Firestone Polymers Synthetic Rubber Plant | Orange |
| Dow Chemical Plant | Oyster Creek |
| Celanese Chemical Plant | Palacios |
| Brazos Valley Co-Op Power Plant | Palo Pinto |
| Crazy Water Hotel | Palo Pinto |
| Palo Pinto Power Plant | Palo Pinto |
| Randall Miller Power Plant | Palo Pinto |
| Cabot Construction-Crane And Oil Supplies Plant | Pampa |
| Cabot Gas Refinery | Pampa |
| Cabot Industries A/K/A Cabot Carbon Black | Pampa |
| Cabot Machine Shop | Pampa |
| Cabot Ordinance Plant | Pampa |
| Cabot Steel | Pampa |
| Celanese Chemical Plant | Pampa |
| Hoechst/Celanese Chemical Powerhouse | Pampa |
| Phillips 66 Chemical Plant | Pampa |
| Phillips Petroleum Co. | Pampa |
| Campbell's Soup Plant | Paris |
| St. Joseph's Hospital | Paris |
| Bank One Building | Pasadena |
| Bayport Chemical Plant | Pasadena |
| Big Diamond Chemical Plant | Pasadena |
| British Petroleum (BP) Chemical Plant | Pasadena |
| Brown & Root Fabricating Shop | Pasadena |
| Brown & Root Inc. | Pasadena |
| Celanese "Clear Lake" Plant | Pasadena |
| Celanese Plant | Pasadena |
| Charter Oil Refinery | Pasadena |
| Chevron Phillips "Houston Complex" Polymers Plant | Pasadena |
| Cosden-Fina "Bayport" Oil Refinery And Plastics Chemical Plant | Pasadena |
| Crown Central Petroleum Refinery | Pasadena |
| Crown Oil Refinery | Pasadena |
| Crown Oil Refinery. | Pasadena |
| Dupont Plant | Pasadena |
| Eastern States Chemical Plant | Pasadena |
| Ethyl Corp. Oil Refinery | Pasadena |
| Ethyl Oil Refinery | Pasadena |
| Goodyear Tire & Rubber "Bayport" Chemical Plant | Pasadena |
| Gulf Oil Refinery | Pasadena |
| Hoechst-Celanese "Bayport" Chemical Plant | Pasadena |
| Houston Lighting & Power "Deep Water" Power Plant | Pasadena |
| Houston Shipyard | Pasadena |
| Industrial Gunite | Pasadena |
| ISK Biotech | Pasadena |
| Lubrizol Chemical Plant | Pasadena |
| Lyondell "Bayport" Chemical Intermediates Plant | Pasadena |
| Mobay Chemical Plant fka Miles fka Denka | Pasadena |
| Mobil Oil Refinery | Pasadena |
| Monsanto Chemical Plant | Pasadena |
| Nova Styrene Monomer Plant | Pasadena |
| Occidental Plastics - Pvc Plant | Pasadena |
| Olin Mathieson Chemical Plant | Pasadena |
| Oxychem PVC Plant | Pasadena |
| Phillips Oil Refinery | Pasadena |
| Phillips Plastics Plant | Pasadena |
| Sam Bertron Steam Plant | Pasadena |
| San Jacinto College | Pasadena |
| San Jacinto Junior College | Pasadena |
| Shell Chemical Plant | Pasadena |
| Shell Oil Refinery | Pasadena |
| Simpson/Champion Paper Mill | Pasadena |
| Sinclair Coppers Chemical Plant | Pasadena |
| Stauffer Chemical Plant | Pasadena |
| Texas Petrochemical Chemical Plant | Pasadena |
| U.S. Industries Chemical Plant | Pasadena |
| Union Carbide Plant | Pasadena |
| Upjohn Plant | Pasadena |
| Replacement Parts Co. | Pearland |
| Pearsall Power Plant | Pearsall |
| Sulphur Plant | Pecos |
| Temple-Inland Saw Mill | Pineland |
| Technicorp Nitrogen Plant | Plainview |
| ARCO Building | Plano |
| Medical Center Hospital | Plano |
| Plano High School | Plano |
| Southwestern Bell Telephone | Pleasant Grove |
| ALCOA Aluminum Plant | Point Comfort |
| ALCOA Power Plant | Point Comfort |
| Aluminum Company Of America (ALCOA) Aluminum Plant | Point Comfort |
| Celanese Chemical Plant | Point Comfort |
| Central Power & Light Ennis L. Joslin Power Plant | Point Comfort |
| Dow Chemical | Point Comfort |
| Humble aka Exxon Refinery | Point Comfort |
| Reynolds Aluminum Plant | Point Comfort |
| Exxon Oil Refinery | Port Aransas |
| 1St National Bank Building | Port Arthur |
| ARCO Ethylene Plant | Port Arthur |
| Bethlehem Steel Shipyard | Port Arthur |
| Chemwaste Chemical Processing Plant | Port Arthur |
| Chevron Phillips Steam Cracking Plant | Port Arthur |
| Dow Chemical Plant | Port Arthur |
| E.I. Dupont | Port Arthur |
| Fina Oil | Port Arthur |
| Great Lakes Carbon Black Plant | Port Arthur |
| Gulf Chemical Plant | Port Arthur |
| Gulf Oil Refinery | Port Arthur |
| Gulf Refinery | Port Arthur |
| Gulf States Refinery & Office Buildings | Port Arthur |
| Gulf-Chevron-Standard Oil Refinery And Chemical Plant | Port Arthur |
| Gulfport Shipyard | Port Arthur |
| Humble Oil Refinery | Port Arthur |
| Huntsman Aromatics & Olefins Plant - Texaco Chemical | Port Arthur |
| Port Arthur Refinery | Port Arthur |
| Premcor Oil Refinery | Port Arthur |
| Quantum Chemicals Plant | Port Arthur |
| San Jacinto Gas | Port Arthur |
| Sinclair-Atlantic Richfield Co. (ARCO)-Koppers-Millenium-Equistar Chemical Plant | Port Arthur |
| Taylor Motors | Port Arthur |
| Texaco Island Shipyard | Port Arthur |
| Texaco Oil Refinery | Port Arthur |
| Texaco-Motiva-Star Enterprise Oil Refinery | Port Arthur |
| Texas Chemical Plant | Port Arthur |
| Texas Co. | Port Arthur |
| Texas Oil Refinery | Port Arthur |
| Fina Oil Refinery | Port Arthur (Groves) |
| Taylor Oil Refinery | Port Isabel |
| Union Carbide Chemical Plant | Port Isabel |
| ALCOA Aluminum Plant | Port Lavaca |
| Celanese Chemical Plant | Port Lavaca |
| Dupont Chemical Plant | Port Lavaca |
| Union Carbide aka Dow Seadrift Olefins Plant | Port Lavaca |
| Ameripol Synpol Chemical Plant | Port Neches |
| B.F. Goodrich Tire & Rubber Plant | Port Neches |
| Fina Oil Refinery | Port Neches |
| Huntsman Neches Butane Products (C-4) Plant fka Texaco | Port Neches |
| Huntsman Oxides & Olefins (O&O) Plant - Jefferson Chemical Plant | Port Neches |
| Jefferson-Texaco Chemical Plant | Port Neches |
| Neches Butane Plant | Port Neches |
| Port Neches Refinery | Port Neches |
| Texaco Asphalt Plant | Port Neches |
| Texaco Oil Refinery | Port Neches |
| Texas U.S. Chemical Plant | Port Neches |
| Oasis Pipeline | Prairie Lee |
| Prairie View A&M University | Prairie View |
| Prairie View Power Plant | Prairie View |
| Texas A&M College | Prairie View |
| Humble aka Exxon Refinery | Premont |
| Mobil Oil Refinery | Premont |
| Lake Pauline Power Plant | Quanah |
| Phillips Gas Plant | Rankin |
| Exxon Plant | Refugio |
| Humble Refinery | Refugio |
| Berkner High School | Richardson |
| Collins Radio Manufacturing Plant | Richardson |
| Collins Radio Office Building | Richardson |
| Richardson High School | Richardson |
| Brazos Valley Power Plant | Richmond |
| Polly Ryan Hospital | Richmond |
| W. A. Parish Steam Plant | Richmond |
| WKM Foundry | Richmond |
| WKM Iron Foundry | Richmond |
| WKM Refinery | Richmond |
| Humble/Exxon | Rio Grande City |
| Shell Oil | Rio Grande City |
| Aluminum Company Of America (ALCOA) Aluminum Plant | Rockdale |
| Sandow Power Plant | Rockdale |
| Texas Utilities Power Plant | Rockdale |
| Gulf State Tubing | Rosenberg |
| W.A. Parrish Power Plant | Rosenberg |
| Dupont Chemical Plant | Round Rock |
| McNeil Labratories | Round Rock |
| Round Rock High School | Round Rock |
| Runge Gas Transmission Plant | Runge |
| Rusk Mental Hospital | Rusk |
| Eagle Mountain Lake Powerhouse | Saginaw |
| Concho Power Plant aka San Angelo Power Plant | San Angelo |
| General Telephone Electronics (GTE) | San Angelo |
| Goodfellow Air Force Base | San Angelo |
| San Angelo State University | San Angelo |
| West Utilities Powerhouse | San Angelo |
| ABC Linen Plant | San Antonio |
| Alamo Heights High School | San Antonio |
| Alamo National Bank | San Antonio |
| Baptist Hospital | San Antonio |
| Bexar County Courthouse | San Antonio |
| Bexar County Hospital | San Antonio |
| Bexar County Jail | San Antonio |
| Bexar County Teaching Hospital | San Antonio |
| Braunig Lake Power Plant | San Antonio |
| Brooks Air Force Base | San Antonio |
| Calveras Lake Power Plant | San Antonio |
| Camp Bullis Army Base | San Antonio |
| Cementville Power Plant | San Antonio |
| Central Energy Plant | San Antonio |
| Century Building | San Antonio |
| Cities Public Service | San Antonio |
| City Office Complex | San Antonio |
| City Water Board Office Building | San Antonio |
| City Water Treatment Plant | San Antonio |
| Coca-Cola | San Antonio |
| Coca-Cola Plant | San Antonio |
| Community Hospital | San Antonio |
| Crossroads Building | San Antonio |
| Division Drycleaners | San Antonio |
| Express News | San Antonio |
| Express Publishing Building | San Antonio |
| Fort Sam Houston | San Antonio |
| Fort Sam Houston Army Base | San Antonio |
| Fort Sam Houston Hospital | San Antonio |
| Fox Technical School | San Antonio |
| Fredericks Air Conditioning Plant | San Antonio |
| Frito-Lay Plant | San Antonio |
| Frost Bank Office Building | San Antonio |
| Frost National Bank | San Antonio |
| Gaylord Box Company | San Antonio |
| Gebhardt Mexican Food Products Plant | San Antonio |
| Grace Lutheran Hospital | San Antonio |
| H.B. Zachry Office Building | San Antonio |
| Hawthorne Junior High School | San Antonio |
| Hemisfair Arena Complex | San Antonio |
| Holly Street Powerhouse | San Antonio |
| Humann Hospital | San Antonio |
| Incarnate Word College | San Antonio |
| International Airport | San Antonio |
| Jewish Community Center | San Antonio |
| John Jay High School | San Antonio |
| John Kennedy High School | San Antonio |
| John Marshall High School | San Antonio |
| John Marshall School | San Antonio |
| Judson Candy Plant | San Antonio |
| Kelly Air Force Base | San Antonio |
| Lackland Air Force Base Elementary School | San Antonio |
| Lackland Air Force Base Hospital | San Antonio |
| Lackland Barrages | San Antonio |
| Lackland Dog Training Center | San Antonio |
| Leon Creek Powerhouse | San Antonio |
| Leon Creek Steam Plant | San Antonio |
| Lone Star Brewery | San Antonio |
| Luby's Cafeteria Headquaters | San Antonio |
| Luby's Cafeteria Restaurant | San Antonio |
| Marriott Hotel North | San Antonio |
| McNay Art Institute | San Antonio |
| Menger Hotel | San Antonio |
| Methodist Hospital | San Antonio |
| Metropolitan Humana Hospital | San Antonio |
| Mission Petroleum/Diamond Shamrock Plant | San Antonio |
| Mission Provision Company | San Antonio |
| Morningside Manor | San Antonio |
| National Bank Of Commerce | San Antonio |
| NBC Building | San Antonio |
| Northside Power Plant | San Antonio |
| O.W. Summers Power Plant | San Antonio |
| O.W. Summers Steam Plant | San Antonio |
| Pace Picante Plant | San Antonio |
| Pearl Brewery | San Antonio |
| Post Office Drycleaners | San Antonio |
| Randolph Air Force Base | San Antonio |
| Rilling Road Sewage Treatment Plant | San Antonio |
| San Antonio College | San Antonio |
| San Antonio Independent School District | San Antonio |
| San Antonio Linen Company | San Antonio |
| San Antonio Power & Light | San Antonio |
| San Antonio Public Utility Plant | San Antonio |
| San Antonio State Chest Hospital | San Antonio |
| San Antonio State Hospital | San Antonio |
| Santa Rosa Children's Hospital | San Antonio |
| Sea World | San Antonio |
| Sears, Roebuck Building | San Antonio |
| Southwest Research Complex | San Antonio |
| Southwestern Bell Building (s) | San Antonio |
| St. Anthony Hotel | San Antonio |
| St. Lukes Hospital | San Antonio |
| St. Mary's University | San Antonio |
| Sunshine Laundry & Dry Cleaner | San Antonio |
| Swift Meat Packing Plant | San Antonio |
| Texas Pharmaceuticals Plant | San Antonio |
| Texas Power & Light | San Antonio |
| Tower Of Americas Building | San Antonio |
| Trinity Baptist Church | San Antonio |
| Trinity University | San Antonio |
| TU Electric Power Plant | San Antonio |
| Tuttle Creek Power Plant | San Antonio |
| University Of Texas | San Antonio |
| University Of Texas - Science Building | San Antonio |
| University Of Texas At San Antonio | San Antonio |
| University Of Texas Dental School | San Antonio |
| University of Texas Health Science Center | San Antonio |
| University Of Texas Health Sciences Buildings | San Antonio |
| University Of Texas Medical Center | San Antonio |
| University Of Texas Medical Laboratory | San Antonio |
| University Of Texas School Of Nursing | San Antonio |
| Usaa Building | San Antonio |
| USAA Insurance Building | San Antonio |
| V.H. Braunig Power Plant | San Antonio |
| Vallejo Petroleum Company Office Building | San Antonio |
| W.B. Tuttle Power Plant Unit 4 | San Antonio |
| Wedgewood Apartment Building | San Antonio |
| YMCA | San Antonio |
| La Palma Power Plant | San Benito |
| Houston Power & Light Power Plant | San Leon |
| Gary Air Force Base | San Marcos |
| Gary Job Center | San Marcos |
| San Marcos Job Corps Building At Gary Air Force Base | San Marcos |
| Southwest Texas State University | San Marcos |
| Savoy Power Plant | Savoy |
| Texas Utilities Power Plant 1, 2, 3. | Savoy |
| Getty Oil Refinery aka Texaco Oil Refinery | Scroggins |
| Bayport Tank | Seabrook |
| Southwest Chemical Services | Seabrook |
| Union Carbide Chemical Plant | Seadrift |
| Columbia Carbon Black Plant | Seagraves |
| Trinity Gas | Sejita |
| Amerada-Hess Plant | Seminole |
| Abitibi Consolidated Paper Mill Co. | Sheldon |
| Shell Oil Refinery | Sheridan |
| Johnson & Johnson Plant | Sherman |
| Libby Owens Ford Glass Plant | Sherman |
| Mrs. Tucker's Milk Plant | Sherman |
| Mrs. Tuckers Shortening Plant | Sherman |
| Oscar Meyer Packing Plant | Sherman |
| Valley Power Plant | Sherman |
| Wilson N. Jones Hospital | Sherman |
| ARCO Warehouse | Silsbee |
| Atlantic Richfield Co. | Silsbee |
| East Texas Paper Mill | Silsbee |
| Kirby Plywood Mill | Silsbee |
| South Hampton Oil Refinery | Silsbee |
| Sun Oil (Sunoco) Refinery | Silver |
| Sun Oil Company | Silver City |
| Skelly Refinery | Skellytown |
| Smithville High School | Smithville |
| Lone Star Gas Plant | Springtown |
| Texas Instruments | Stafford |
| Natural Gas Pipeline Plant | Stinnett |
| Getty Oil Co. Gas Plant | Streetman |
| Imperial Sugar Mill | Sugarland |
| Phillips 66 Gas Plant | Summerville |
| Slaughter Gasoline Plant | Sundown |
| American Zinc Smelter | Sunray |
| Diamond Shamrock Refinery | Sunray |
| Sunray Powerhouse | Sunray |
| Abercrombie Harrison Refinery | Sweeny |
| Phillips 66 "Old Ocean" Oil Refinery | Sweeny |
| Sweetwater Cotton Oil Plant | Sweetwater |
| Sinclair Refinery | Taft |
| River Crest Power Plant | Talco |
| Martin Creek Power Plant | Tatum |
| Tatum Power Plant | Tatum |
| Txu Power Plant | Tatum |
| Carpenter Company Building | Temple |
| King Daughters Hospital | Temple |
| Mobil/Tenneco Chemical | Temple |
| Ralph Wilson Plastics | Temple |
| Santa Fe Railroad | Temple |
| Scott White Hospital | Temple |
| Terrell State Hospital | Terrell |
| Boise Cascade Paper Mill | Texarkana |
| Central Mall | Texarkana |
| Cooper Tire Company | Texarkana |
| Day & Zimmerman | Texarkana |
| Diamond Paper Mill | Texarkana |
| Georgia Pacific Paper Mill | Texarkana |
| International Creosote Plant | Texarkana |
| International Paper Mill | Texarkana |
| Kerr-Mcgee | Texarkana |
| Lone Star Army Ammunition Plant | Texarkana |
| Penland Paper | Texarkana |
| St. Michael Hospital | Texarkana |
| Wadley Hospital | Texarkana |
| American Chemical Plant | Texas City |
| American Oil (Amoco) Chemical Plant | Texas City |
| American Oil Co. (Amoco) Refinery | Texas City |
| Armco Steel Mill | Texas City |
| Atlantic Richfield (ARCO) Chemical Plant | Texas City |
| B.C. Fertilizer Plant | Texas City |
| Borden Chemical Plant | Texas City |
| British Petroleum (BP) Oil Refinery | Texas City |
| British Petroleum (BP) Petrochemical Plant | Texas City |
| Carbide Carbon Co. | Texas City |
| Carbon & Carbide Plant | Texas City |
| Celanese Chemical Plant | Texas City |
| Dow Natural Gas Derivatives Plant - Union Carbide Chemical Plant | Texas City |
| Eastern States/Signal Oil/Charter Oil Refinery | Texas City |
| Enron Power Plant | Texas City |
| GAF (General Alkaline Film) Chemical Plant | Texas City |
| Hill Products | Texas City |
| Marathon Ashland Fuels Refinery | Texas City |
| Monsanto aka Sterling Chemical Plant | Texas City |
| Monsanto Chemical Plant | Texas City |
| P. H. Robinson Plant | Texas City |
| Smith & Douglas Refinery | Texas City |
| Smith Douglass Textile Mill | Texas City |
| Sterlington Power Plant | Texas City |
| Texaco "Gasoline Cracking" Chemical Plant | Texas City |
| Texas City Chemical | Texas City |
| Texas City Power Plant | Texas City |
| Texas City Refinery | Texas City |
| Tin Processing Mill | Texas City |
| Union Carbide Antifreeze Warehouse | Texas City |
| Valero Fuels Refinery | Texas City |
| Houston Lighting & Power (Hl&P) "Smithers Lake" Power Plant | Thompsons |
| W.A. Parish Gas & Coal Power Plants | Thompsons |
| Exxon Oil Refinery | Three River |
| Exxon Oil Refinery | Three Rivers |
| Valero "Three Rivers" Oil Refinery | Three Rivers |
| Tilden Refinery | Tilden |
| Houston Power & Light Power Plant | Tomball |
| Humble Compressor Station | Tomball |
| T. H. Wharton Power Plant | Tomball |
| Tomball Power Plant | Tomball |
| Texas Utilities Generating Plant | Trinidad |
| Trinidad Power Plant | Trinidad |
| American Oil Company (Amoco) | Tyler |
| Amoco Building | Tyler |
| Brookshire Supermarket Roof | Tyler |
| Delek Oil Refinery fka La Gloria Oil Refinery | Tyler |
| East Texas Medical Center | Tyler |
| General Electric Plant | Tyler |
| General Electric/Trane/American Standard Air Conditioner Plant | Tyler |
| Goodyear Tire & Rubber Plant | Tyler |
| Kelly Springfield Tire Plant | Tyler |
| Kelly Tar Plant | Tyler |
| McMurrey Refinery | Tyler |
| Mother Frances Hospital | Tyler |
| Rex-Hide Extruded Rubber Plant | Tyler |
| Sears, Roebuck | Tyler |
| Sterling Plumbing Fixtures Plant | Tyler |
| Tyler Junior College | Tyler |
| Tyler Pipe Foundry | Tyler |
| University Of Texas Health Center | Tyler |
| Western Pipe Foundry | Tyler |
| Western Refinery | Tyler |
| Mobil Gas Plant | Vanderbilt |
| West Texas Power & Light Plant | Vernon |
| Central Power & Light Company | Victoria |
| Citizen Hospital | Victoria |
| Dow Chemical | Victoria |
| DuPont Chemical Plant | Victoria |
| Exxon Oil Refinery | Victoria |
| Memorial Hospital | Victoria |
| Sears, Roebuck | Victoria |
| Union Carbide Chemical Plant | Victoria |
| Victoria Chemical | Victoria |
| Victoria Power Plant | Victoria |
| Baylor University | Waco |
| Baylor University - Moody Library | Waco |
| Certainteed Building Products Plant | Waco |
| Fort Hood | Waco |
| General Tire Plant | Waco |
| Lake Creek Powerhouse | Waco |
| M & M Mars Candy Plant | Waco |
| Owens-Illinois Glass Plant | Waco |
| Providence Hospital | Waco |
| Tenneco Company | Waco |
| Texas Power & Light Plant | Waco |
| Ark La Gas Refinery | Waskom |
| Brazos River Power Plant | Weatherford |
| Lake Weatherford Power Plant | Weatherford |
| North Texas Power Plant | Weatherford |
| Exxon Gas Plant | Webster |
| Houston Power & Light Power Plant | Webster |
| Webster Junior High School | Webster |
| American Petrofina | Wichita Falls |
| Bethana Hospital | Wichita Falls |
| Bethania Hospital | Wichita Falls |
| Levi Strauss Plant | Wichita Falls |
| Midwestern University | Wichita Falls |
| Pittsburgh Plate Glass (PPG) Chemical Plant | Wichita Falls |
| Sheppard Air Force Base | Wichita Falls |
| Sprague Electric Company | Wichita Falls |
| Wichita Falls State Hospital | Wichita Falls |
| Lewis Creek Station Power Plant | Willis |
| Humble Oil Refinery | Wingate |
| Exxon/Humble Gas Plant & Tank Farm | Wink |
| McCarthy Oil | Winnie |
| Texas Gas Company | Winnie |
| Tidewater Oil Company | Winnsboro |
| American Oil Company (Amoco) Plant | Yantis |
| Pan American Oil Refinery | Yantis |
| M-I Drilling Fluids | Zavalla |
| Abilene Hospital | Abilene |
| Dyess Air force Base | Abilene |
| Amoco Chocolate Bayou | Alvin |
| Amarillo City Barn | Amarillo |
| Amarillo Helium | Amarillo |
| Amarillo Incinerator | Amarillo |
| Amarillo Public Schools | Amarillo |
| Amarillo Smelter | Amarillo |
| Amarillo Trade School | Amarillo |
| American Lead & Zinc | Amarillo |
| Asarco | Amarillo |
| Asarco Copper | Amarillo |
| Harrington Station | Amarillo |
| Nicholas Station | Amarillo |
| NORAD | Amarillo |
| OK Asbestos Co | Amarillo |
| Pantex | Amarillo |
| RJH Apartments | Amarillo |
| Smelter Plant | Amarillo |
| St Anthony | Amarillo |
| Sulphur Plant | Amarillo |
| Texaco Refinery | Amarillo |
| Williams Electric | Andrews |
| Right Motor Company | Angleton |
| Quality Inn | Arlington |
| Six Flags Mall | Arlington |
| Baker Tank-ARP | ARP |
| Texas Gulf Chemical Plant | Aurora |
| Wight Engineering | Austin |
| International Paper Company | Bastrop |
| Celanese Plant | Bay City |
| Chemical Plant | Bay City |
| Cornet Rice Mill | Bay City |
| Nuclear Plant | Bay City |
| Oxyrene Chemical Plant | Bayport |
| Retszlof Chemical | Bayport |
| Aamco | Baytown |
| Brown & Rood | Baytown |
| Cedar Bayou Power Plant | Baytown |
| Chevron Chemical | Baytown |
| Chevron Gulf | Baytown |
| Chevron Oil | Baytown |
| Esso Refinery | Baytown |
| Exxon Chemical | Baytown |
| Gulf Oil Refinery | Baytown |
| Humble Exxon | Baytown |
| Mobay Chemical | Baytown |
| PH Robinson Power Plant | Baytown |
| Shell Oil | Baytown |
| Standard Oil | Baytown |
| Beaumont Works | Beaumont |
| Bethlehem Steel | Beaumont |
| Dupont Chemical | Beaumont |
| Gulf Oil | Beaumont |
| Magnolia Petroleum | Beaumont |
| Mobil Oil | Beaumont |
| Shell Oil | Beaumont |
| Sinclair Oil | Beaumont |
| Sun Oil | Beaumont |
| Union 76 Refinery | Beaumont |
| Carbon Plant | Big Spring |
| Cosden Oil & Chemical | Big Spring |
| Cosden Petrofina Refinery | Big Spring |
| Ammonia Facility | Big Springs |
| Big Springs High School | Big Springs |
| Fina Refinery | Big Springs |
| Celanese Chemical | Bishop |
| Celanese Plant | Bishop |
| Champion Petroleum | Bishop |
| Carbon Black Co | Borger |
| Co-Polymer Rubber & Chemical | Borger |
| Phil Tex | Borger |
| Philblack Plant | Borger |
| Phillips Carbon Black Plant | Borger |
| Phillips Petroleum | Borger |
| Phillips Plains Plant | Borger |
| Phillips Refinery | Borger |
| Phillips Rubber Plant | Borger |
| Standard Asbestos | Borger |
| Amoco Chemical Standard | Brownsville |
| Brownsville Hospital | Brownsville |
| Carthage Hyrocol Plant | Brownsville |
| Chartage-Hydrocol | Brownsville |
| City of Brownsville Power Plant | Brownsville |
| Marathon Oil | Brownsville |
| Union Carbide | Brownsville |
| Bryan Station Power Plant | Bryan |
| Copolymer Rubber Plant | Bunavista |
| Phillips Petroleum Plains Plant | Bunavista |
| Phillips North Plant | Byer City |
| Phillips Petroleum | Cactus |
| BF Goodrich | Calvert City |
| Spencer Chemical-Gulf Oil Plant | Cedar Bayou |
| Parker Brothers Car Dealership | Center |
| Arco Chemical Plant | Channelview |
| Cargill Fertilizer Plant | Channelview |
| Chevron Oil Refinery | Channelview |
| Standard Oil | Cherry Point |
| American Oil Refinery | Chocolate Bayou |
| Amoco Chemical | Chocolate Bayou |
| Dow Chemical | Chocolate Bayou |
| Monsanto Chemical | Chocolate Bayou |
| Phillips Petroleum | Chocolate Bayou |
| Clarksville Base | Clarksville |
| Clarksville Hospital | Clarksville |
| NASA | Clear Lake |
| Diamond Shamrock | Cleveland |
| Ross Motor Company | Clute |
| Texas A&M University | College Station |
| Nabisco | Comanche |
| Talley Automotive | Commerce |
| Total Petroleum Refinery | Commerce City |
| Texaco Refinery | Conroe |
| Whitco | Cordell |
| Bedford Construction Company | Corpus Christi |
| C.C. Plumbing & Heating | Corpus Christi |
| CCPC | Corpus Christi |
| Celanese Chemical | Corpus Christi |
| Central Power and Light Dispatching | Corpus Christi |
| Chevron Oil Refinery | Corpus Christi |
| Coastal States Refinery | Corpus Christi |
| Corn Products Co. Intl. | Corpus Christi |
| Corpus Christi Plumbing & Heating | Corpus Christi |
| Corpus Christi Shipyard | Corpus Christi |
| Hoechst Celanese | Corpus Christi |
| Nueces Bay Power Station | Corpus Christi |
| Reynolds Corpus | Corpus Christi |
| Southern Alkale | Corpus Christi |
| Southwest Oil Refinery | Corpus Christi |
| Sun Tide Refinery | Corpus Christi |
| Valeo | Corpus Christi |
| Water Street Station | Corpus Christi |
| Phillips Petroleum | Crane |
| Firestone | Crockett |
| Daniel Valve | Cypress |
| Lone Star Steel | Daingerfield |
| Phillips Helium Plant | Dalhart |
| Armored Motor Co | Dallas |
| AT&T Dallas Works Plant | Dallas |
| Austin Bridge | Dallas |
| Baker Hotel | Dallas |
| Baylor Hospital | Dallas |
| City Of Dallas | Dallas |
| Citywide Heating and Air | Dallas |
| Cooks Machinery | Dallas |
| Dallas ISD | Dallas |
| Dallas Morning News | Dallas |
| Dallas Plumbing | Dallas |
| DFW Airport | Dallas |
| Frymire Engineering | Dallas |
| General Electric | Dallas |
| Mobil Building | Dallas |
| Mrs. Bairds | Dallas |
| North Lake Plant | Dallas |
| Owens Corning Ware | Dallas |
| Painters Union #53 | Dallas |
| Palace Theatre | Dallas |
| Parkdale Plant | Dallas |
| Parkland Hospital | Dallas |
| Presbyterian Hospital | Dallas |
| Quality Inn | Dallas |
| Redmond Plaza | Dallas |
| Republic Bank Building | Dallas |
| Reunion Arena | Dallas |
| Reunion Hotel | Dallas |
| Sheraton | Dallas |
| SMU | Dallas |
| St Paul Hosp | Dallas |
| State Farm | Dallas |
| Tempo Heating & Air | Dallas |
| Travelers Insurance Company | Dallas |
| United Industries Company | Dallas |
| United Tile Company | Dallas |
| VAMC | Dallas |
| Verson All Steel Mfg co | Dallas |
| Ward Bros Plumbing | Dallas |
| Big Three Gas | Deer Park |
| Brown & Root | Deer Park |
| Celanese Chemical | Deer Park |
| Crown Chemical | Deer Park |
| Diamond Shamrock Refinery | Deer Park |
| Dupont Chemical | Deer Park |
| Ethel Corp | Deer Park |
| Hoechst Celanese | Deer Park |
| Occidental Chemical | Deer Park |
| Phillips Refinery | Deer Park |
| Quantium | Deer Park |
| Rohm & Haas | Deer Park |
| Sam Berton Power Plant | Deer Park |
| Shell Chemical | Deer Park |
| Shell Oil & Refinery | Deer Park |
| Shell Refinery | Deer Park |
| Union Carbide | Deer Park |
| Upjohn chemical | Deer Park |
| US Industries | Deer Park |
| Johns-Manville | Denison |
| Chick Spec. Co | Denton |
| Texas Women's University | Denton |
| University of North Texas | Denton |
| Shell Oil | Denver City |
| Shell Plant | Denver City |
| Cory-Joslins Macnsons | Desoto |
| Anstart | Dimmitt |
| EL Cor Chemical | Dimmitt |
| Good Pasture Fertilizer Plant | Dimmitt |
| American Zinc Smelter | Dumas |
| Diamond Shamrock Refinery | Dumas |
| Natural Gas Pipeline | Dumas |
| Phillips Petroleum | Dumas |
| Phillips Refinery | Dumas |
| Shamrock | Dumas |
| Arco Chemical Plant | Eagle Lake |
| Plant X | Earth |
| B&R Compressor Station | Edna |
| Airway Blvd | El Paso |
| Art Craft Tile Co | El Paso |
| Asarco | El Paso |
| Chevron Refinery | El Paso |
| Darbyshire Steel | El Paso |
| El Paso Electric Co | El Paso |
| El Paso Gas | El Paso |
| Newman Power House | El Paso |
| Pecos HS | El Paso |
| Phelps Dodge | El Paso |
| Providence Hospital | El Paso |
| Rio Grande Power | El Paso |
| Standard Chemical Refinery | El Paso |
| Standard Oil | El Paso |
| Sun Power Hospital | El Paso |
| Texaco Refinery | El Paso |
| Thomas Hospital | El Paso |
| Trading House Power Plant | Elk |
| Elsa Canning | Elsa |
| Southern Pacific Railroad | Ennis |
| East TX Paper Mill | Evadale |
| Owens Illinois Paper Company | Evandale |
| Fairfield Powerhouse | Fairfield |
| CP&L Power Plant | Flower Bluff |
| Flower Bluff Power Station | Flower Bluff |
| Fort Bliss | Fort Bliss |
| Civil Service | Fort Hood |
| Carswell AFB | Fort Worth |
| BASE | Freeport |
| Dow Chemical | Freeport |
| Dupont Chemical | Freeport |
| Ethel Corp | Freeport |
| Monsanto Chemical | Freeport |
| Rhone Pulene | Freeport |
| Shintech | Freeport |
| Commerce Building | Ft. Worth |
| Dixon Jenkins Plant | Ft. Worth |
| General Dynamics | Ft. Worth |
| Armco Plant | Gainesville |
| Gulf Oil | Galveston |
| King Boilerworks | Galveston |
| Naval Shipyard | Galveston |
| Standard Dredging Co | Galveston |
| Todd Shipyard | Galveston |
| Brown & Root | Glen Rose |
| Glen Rose Squaw Valley Plant | Glen Rose |
| Marathon Oil | Gonzales |
| Texaco Refinery | Gonzales |
| Chance Voight Aircraft | Grand Prairie |
| B & R Pipe Mill | Green Bayou |
| Auto Care by Jerry | Greenville |
| Auto Doc | Greenville |
| Caldwell Covering | Greenville |
| City of Greenville | Greenville |
| Crawford Smith Repair | Greenville |
| Firestone | Greenville |
| Judson Textile Mill | Greenville |
| Toyota House | Greenville |
| VA Hospital | Gulf Port |
| Celotex Manufacturing Plant | Hamlin |
| Texaco Refinery | Harbor Island |
| Air Force Base-Harlingen | Harlingen |
| Sun Valley Mall | Harlingen |
| Valley Baptist Hospital | Harlingen |
| Martin Lake Plant | Henderson |
| Spencer Chemical-Gulf Oil Plant | Henderson |
| Ford Motor Company | Hereford |
| Keasbey & Mattison Plant | Hillsboro |
| Amoco Chemical | Houston |
| Amoco Oil Refinery | Houston |
| Anchor Packing | Houston |
| Anheuser Busch Brewery | Houston |
| AO Smith Pipe Plant | Houston |
| Arco Refinery | Houston |
| Arco Sinclair | Houston |
| Armco Sheffield Steel | Houston |
| Astrodome Stadium | Houston |
| Bear Creek Golf Course Clubhouse | Houston |
| Brown & Root | Houston |
| Brown & Todd Shipyard | Houston |
| Brown Shipyard | Houston |
| Buck Jones Sandblasting | Houston |
| Budweiser Brewery | Houston |
| Burbank Elementary | Houston |
| Cameron Iron | Houston |
| Campbell Roofing | Houston |
| Carnation Plant | Houston |
| Cashmere Garden High School | Houston |
| Celanese | Houston |
| Champion Simpson Paper Mill | Houston |
| Charter Oil | Houston |
| Chevron Oil Refinery ( Green Bayou) | Houston |
| Chicago Bridge & Iron | Houston |
| Citizen's Bank | Houston |
| Cleco Air Tools | Houston |
| Consolidated Chemical | Houston |
| Continental Airport | Houston |
| Crown Chemical | Houston |
| Daniel Valve | Houston |
| Diamond Shamrock Refinery | Houston |
| Dixel Manufacturing | Houston |
| Dow Chemical | Houston |
| Dupont Chemical | Houston |
| Eagle Insulation | Houston |
| Exxon Refinery | Houston |
| Fiberglass Insulations | Houston |
| Gavis St. Power Plant | Houston |
| Goodyear Plant | Houston |
| Green Bayou Power | Houston |
| Gulf Oil Refinery | Houston |
| Hewitt Machine | Houston |
| Houston Power & Light | Houston |
| Humble Bldg | Houston |
| Intercontinental Airport | Houston |
| Johnson Space Center | Houston |
| Lone Star Heat | Houston |
| M and J Valve | Houston |
| Maxwell House Plant | Houston |
| Monsanto Chemical | Houston |
| Mrs. Bairds | Houston |
| Nabisco | Houston |
| NASA | Houston |
| Palm Center | Houston |
| Pennzoil Building | Houston |
| Penwalt Chemical | Houston |
| Petrotex | Houston |
| Phillips 66 | Houston |
| Phillips Refinery | Houston |
| R&P Machine Shop | Houston |
| Rice University | Houston |
| Roman Hause Chemical | Houston |
| Sam Houston High School | Houston |
| Seing Loin Roofing | Houston |
| Sheffield Steel Mill | Houston |
| Shell building | Houston |
| Shell Refinery | Houston |
| Shelter W Green | Houston |
| Shortcut to Sun Tide Refinery | Houston |
| Signal Oil | Houston |
| Sinclair Copper | Houston |
| Southland Paper Mill | Houston |
| Stauffer Chemical | Houston |
| Sun Tide Refinery | Houston |
| T.H. Wharton Power Plant | Houston |
| Tennaco Refinery | Houston |
| Tennessee Gas Building | Houston |
| Tetrahydrofuran Plant | Houston |
| Texaco Refinery | Houston |
| Texas Children's Hospital | Houston |
| Texas Petrochem | Houston |
| Todd Shipyard | Houston |
| Tony Marin Body Shop | Houston |
| Union Carbide | Houston |
| Water Treatment Plant | Houston |
| West Printing Co | Houston |
| White Motor Company | Houston |
| Yard & Bloodworth | Houston |
| Sam Houston University | Huntsville |
| Reynolds Metal | Ingleside |
| CNR Lease Service | Kennedy |
| Seaboard Oil co | Kennedy |
| Burns Electric | Kermit |
| Gulf Oil | Kermit |
| Shell Oil | Kermit |
| Ramada Inn | Kerrville |
| Fort Hood | Killeen |
| Communications Bldg | Kingsville |
| Hoechst Celanese | Kingsville |
| Calloway Textile Mill | LaGrange |
| Air Products | LaPorte |
| Bayport Chemical Complex | LaPorte |
| Big 3 Oxygen & Nitrogen Plant | LaPorte |
| Dupont Chemical | LaPorte |
| Retszlof Chemical | LaPorte |
| Rohm & Haas | LaPorte |
| Shell Oil Refinery | LaPorte |
| Tennaco Refinery | LaPorte |
| Union Carbide | LaPorte |
| Upjohn Dow Chemical | LaPorte |
| US Industries | LaPorte |
| Laredo Power Plant | Laredo |
| US Air Force Base | Laredo |
| Webster Power Plant | League City |
| Lone Star Steel | Lone Star |
| Standard Tool | Long view |
| ADV Ross-Roy Green | Longview |
| Combustion Eng. | Longview |
| Eastman Kodak | Longview |
| International Paper Company | Longview |
| R.G. Letourneau | Longview |
| Trinity Industries | Longview |
| Reese Air Force Base | Lubbock |
| Sound Photo | Lubbock |
| Southwestern Power Service | Lubbock |
| SPS | Lubbock |
| Texas Tech University | Lubbock |
| Champion International | Lufkin |
| B. W. Karbo Pipeline | Marshall |
| Texas & Pacific Railroad | Marshall |
| Chemical Plant | Maryneal |
| Rust Engineering | Meade-Kingsport |
| Dallas Works Plant | Mesquite |
| TU Electric | Mesquite |
| Bank Building Midland | Midland |
| Cosland Gas Refinery | Midland |
| Paragon Midland | Midland |
| Safety Building | Midland |
| Twin Tower Bank Building | Midland |
| Sealey Smith Plant | Monahans |
| Texas Utilities | Monahans |
| TU Electric | Monahans |
| American Petro Fina | Mount Pleasant |
| Monticello Plant | Mount Pleasant |
| SFA University | Nacogdoches |
| Pure Oil Refinery | Nederland |
| Sun Oil Refinery | Nederland |
| A & B Plumbing | Odessa |
| Bowie Junior High | Odessa |
| Burns Electric | Odessa |
| Butane Diane Plant | Odessa |
| El Paso Chemical | Odessa |
| Foreman Electric | Odessa |
| Odessa College | Odessa |
| Odessa School District | Odessa |
| Portland Cement Plant | Odessa |
| Ref Chem Corp | Odessa |
| Rexall Plant | Odessa |
| Rexene Plastics | Odessa |
| Rexene Polymor | Odessa |
| Rubber Plant | Odessa |
| Shell Oil | Odessa |
| Shell Refinery | Odessa |
| Star Insulation | Odessa |
| StarAdair Insulation | Odessa |
| Texas Instruments | Odessa |
| University of Texas | Odessa |
| University of Texas Permian Basin | Odessa |
| Webb Woodworks | Odessa |
| Pan American-Aroco Product Plant | Old Ocean |
| Phillips 66 | Old Ocean |
| Phillips Refinery | Old Ocean |
| American Bridge | Orange |
| Atlantic Reserve Fleet | Orange |
| BF Goodrich | Orange |
| Chevron Gulf | Orange |
| Consolidated Shipyard | Orange |
| Dupont Chemical | Orange |
| Echo Plant | Orange |
| Fina Refinery | Orange |
| Firestone | Orange |
| Levingston Shipyard | Orange |
| OI Paper Mill | Orange |
| Owens Illinois Paper Company | Orange |
| Phillips Carbon | Orange |
| Sabine Industries | Orange |
| Shell Oil Refinery | Orange |
| Spencer Chemical-Gulf Oil Plant | Orange |
| Pittsburgh Corning | Owentown |
| Roadmaster | Owentown |
| Cabot Plant | Pampa |
| Celanese | Pampa |
| Phillips Petroleum | Pampa |
| Pan-Tex Plant | Panhandle |
| Babcock & Wilcox | Paris |
| Campbell's Soup Plant | Paris |
| A.G. Monday Plastic Plant | Pasadena |
| Air Products | Pasadena |
| Al Wheeler | Pasadena |
| Arco Refinery | Pasadena |
| Arco Sinclair | Pasadena |
| Bayshore Hospital | Pasadena |
| Celanese Chemical | Pasadena |
| Champion Simpson Paper Mill | Pasadena |
| Crown Chemical Petroleum | Pasadena |
| Crown Chemical Refinery | Pasadena |
| Crown-Central Refinery | Pasadena |
| Deerwater Power Plant | Pasadena |
| Diamond Shamrock | Pasadena |
| Dixie Chemical | Pasadena |
| Dupont Chemical | Pasadena |
| Ethel Corp | Pasadena |
| Exxon Refinery | Pasadena |
| Goodyear Plant | Pasadena |
| Hoechst Celanese | Pasadena |
| Humble Exxon | Pasadena |
| Marathon Oil | Pasadena |
| Mobil Chemical | Pasadena |
| Parson Construction | Pasadena |
| Pasadena School District | Pasadena |
| Phillips 66 | Pasadena |
| Phillips Petroleum | Pasadena |
| Rohm & Haas | Pasadena |
| Rohm- Haas | Pasadena |
| Shell Oil | Pasadena |
| Sol-Tex | Pasadena |
| Tennaco | Pasadena |
| Texas All-Kyls | Pasadena-Deer Park |
| Brandon Hotel | Pecos |
| Phillips Petroleum Rice Plant | Phillips |
| Plains Plant | Plains |
| Alcoa Plant | Point Comfort |
| Formosa Plastics | Point Comfort |
| Texaco | Port Angeles |
| Stillman Trans | Port Aransas Pass |
| Atlantic Refinery | Port Arthur |
| Carbon Black Plant | Port Arthur |
| Chevron | Port Arthur |
| Continental Can Co | Port Arthur |
| Fina Refinery | Port Arthur |
| Great Lakes Carbon | Port Arthur |
| Gulf Oil Power Plant | Port Arthur |
| St Mary's Hospital | Port Arthur |
| Texaco Chemical Plant | Port Arthur |
| Texaco Refinery | Port Arthur |
| Alcoa | Port Lavaca |
| Atar Facility | Port Lavaca |
| Dechert Exxon | Port Lavaca |
| Joslin Power Station | Port Lavaca |
| Union Carbide | Port Lavaca |
| Dupont Chemical | Port Neches |
| Independent Refinery | Port Neches |
| Jefferson Chemical | Port Neches |
| Neches Butane Products | Port Neches |
| Petro Gas Port Neches | Port Neches |
| Pure Oil Refinery | Port Neches |
| Texaco Chemical Plant | Port Neches |
| Texaco Refinery | Port Neches |
| Texas US Chemical | Port Neches |
| BF Goodrich | Port Nueces |
| University of Texas At Austin | Powerhouse |
| Petrochemical Plant | Premont |
| B&R Compressor Station | Refugio |
| Compressor Station | Refugio |
| Texas Instruments | Richardson |
| TI Manufacturer | Richardson |
| Rincon Gas Compression Station | Rio Grande City |
| Alcoa Plant | Rockdale |
| Rusk State Hospital | Rusk |
| Goodfellow AFB | San Angelo |
| Johnson & Johnson | San Angelo |
| San Angelo School District | San Angelo |
| Shannon Hospital | San Angelo |
| Beckwith Eng. | San Antonio |
| C5 Building | San Antonio |
| Calaveras Power Plant | San Antonio |
| City Public Service | San Antonio |
| JT Deeley Power Plant | San Antonio |
| Lackland Air Force Base | San Antonio |
| Lackland Power Plant | San Antonio |
| Leon Creek Power Plant | San Antonio |
| Mission Road Power Plant | San Antonio |
| Pearl Brewing | San Antonio |
| San Antonio Power Plant | San Antonio |
| Southern Ice & cold Storage | San Antonio |
| Texaco Oil Refinery | San Antonio |
| Texas Culture Building | San Antonio |
| Tutle Power | San Antonio |
| US AA building | San Antonio |
| US Hospital | San Antonio |
| Victor Bauning Power Plant | San Antonio |
| Water Power Division | San Antonio |
| WB Tuttle Power Plant | San Antonio |
| Reynolds Metals Company | San Patrick |
| Phillips Petroleum | Sanford |
| Brown & Root | Seadrift |
| Union Carbide | Seadrift |
| Vistron | Seadrift |
| Trentham Corp | Senora |
| AT&T Building | Sequin |
| Southland Paper Mill | Sheldon |
| Capital Product | Sherman |
| Kaiser Aluminum | Sherman |
| Texas Instruments | Sherman |
| Wilson Jones Hospital | Sherman |
| RSI | Sherman-Denison |
| Cabot Plant | Skelleytown |
| Santa Fe Railroad | Slaton |
| Nalco Chemical | Sugarland |
| Price Ford Motor | Sulphur Springs |
| Arco Chemical Plant | Sundown |
| Shamrock Refinery | Sunray |
| Amoco Refinery | Sweeney |
| Phillips Petroleum | Sweeney |
| Phillips Refinery | Sweeney |
| Sweetwater School District | Sweetwater |
| United States Gypsum | Sweetwater |
| Bahan Textile | Taylor |
| Cooper Tire & Rubber Company | Texarkana |
| Globe Union Johnson Control | Texarkana |
| Red River Army Depot | Texarkana |
| Celotex Corp | Texas |
| American Oil | Texas City |
| Amoco Chemical | Texas City |
| Amoco Refinery | Texas City |
| Amoco Texas City | Texas City |
| Arthur G. McKee Construction | Texas City |
| Bechtel Refinery | Texas City |
| Bethel | Texas City |
| GAF Plant | Texas City |
| Marathon Oil | Texas City |
| Monsanto Chemical | Texas City |
| Pan American Refinery | Texas City |
| Philbra | Texas City |
| Republic Oil Texas City | Texas City |
| Sterling Chemical | Texas City |
| Tin Processing Corp | Texas City |
| Union Carbide | Texas City |
| Union Republic Plant | Texas City |
| Weftner Power Plant | Texas City |
| White Coast | Texas City |
| S-R Wintergreen | Tomball |
| Wessell Manufacturing | Tomball |
| Block Metal | Tyler |
| General Electric Trine Plant | Tyler |
| Kelly Springfield Tire | Tyler |
| Southern Aluminum | Tyler |
| Sterling Faucet | Tyler |
| Tyler Lee HS | Tyler |
| Tyler Pipe | Tyler |
| Western Foundry | Tyler |
| EL Cor Chemical | Van Horn |
| Spencer Chemical-Gulf Oil Plant | Vicksburg |
| CP&L Electric Plant | Victoria |
| Dupont Chemical | Victoria |
| Powerhouse | Victoria |
| Town Plaza mall | Victoria |
| Union Carbide | Victoria |
| Victoria Works | Victoria |
| Champion Paper Mill | Vidor |
| Owens Illinois Paper Company | Vidor |
| Libby Owens Ford Glass Plant | Waco |
| Owens Illinois | Waco |
| Trading House Creek Power Plant | Waco |
| 3M Plant | Weatherford |
| Webster Power Plant | Webster |
| Utex | Weimar |
| Cherokee Street | White Oak |
| City National Bank | Wichita Falls |
| Fina Refinery | Wichita Falls |
| Ponds Laundry | Wichita Falls |
| Sheppard AFB | Wichita Falls |
| Wichita Falls Auditorium | Wichita Falls |
| YMCA | Wichita Falls |
| Getty Oil Refinery | Winnsboro |
| S&T Fabricating | Woodville |
Mesothelioma

Lawsuit Evaluation