Mesothelioma Treatments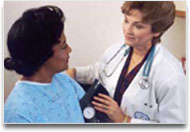 Mesothelioma treatments vary upon the location and stage of the cancer, as well as the patient's age and overall health. In many cases, several mesothelioma treatments are combined to provide maximum care for patients. While no cure exists for mesothelioma, several treatment methods can be used to prolong a patient's life and relieve painful mesothelioma symptoms.
Every mesothelioma diagnosis is handled individually, as there is no right or wrong treatment for this asbestos-related illness. Some patients will undergo common cancer treatment methods, such as chemotherapy and radiation, while others will pursue more experimental methods. If you or a loved one has been diagnosed with mesothelioma, it is important to explore treatment options and discuss them with your mesothelioma doctor.
The standard mesothelioma treatments are:
Mesothelioma is regarded as a highly aggressive form of cancer, making it difficult to treat. Many mesothelioma patients are expected to live only eight to 12 months after the diagnosis. However, some doctors at mesothelioma cancer centers have had better statistics. In addition, today's mesothelioma clinical trials work tirelessly to discover a cure for this disease.
Mesothelioma

Lawsuit Evaluation
Find a Doctor
Finding a mesothelioma doctor who is familiar with the disease and its treatment will help to ensure that you receive the best medical care possible. Contact a local specialist today.
Find a Doctor
Clinical Trials
Though there is currently no cure for mesothelioma, various clinical trials are underway to test new drugs and treatments in the fight against this disease. Search active clinical trials.
Find a Clinical Trial
Exposure Sites
Asbestos, the only known cause of mesothelioma cancer, was used for decades in jobsites throughout the country. Review a list of known asbestos exposure locations in your area.
Search Exposure Sites